Review. Skip. Review. Skip. Review… Add to favorites!
This is what travelers are doing. We browse through a dozen of restaurants and cafes in Kathmandu on TripAdvisor, skip most of them and add a few to favorites.
Choosing a place to eat or sip your cup of coffee depends on your budget and your taste. As the capital offers a huge variety of dining options. So here is our list of 23 places in Kathmandu (around Thamel) to eat out for your reference. Bon appetit!
Price: $ budget, $$ midrange $$$ expensive
Nepali restaurants in Kathmandu
Krishnarpan Restaurant ($$$)
One of the finest dining experiences in Kathmandu is trying traditional Newari food in the charming Krishnarpan restaurant located inside the luxury Dwarika hotel.
Eating in Krishnarpan is not simply just tasting delicious food but experiencing Nepali culture.
You will be warmly welcomed by waiters dressing in traditional Nepal clothing serving excellent Newari specialty dishes in traditional brass tableware.
Set meals options are ranging from 6 to 22 courses which can be personalized upon requests ($80). But the more popular and value for money is the Friday barbeque buffet ($32). Reservation is required.
Utse Restaurant ($$)
Come to Utse Restaurant to see how the locals eat. This place run by a Tibetan refugee family since 1971! – one of the oldest restaurants in Thamel specialized in traditional Tibetan dishes. Its dark, old-fashion interior with incense smoke makes it a Tibetan-style atmosphere.
The Tibetan hotpot (gacok) is mouth-watering good for a winter meal comes with vegetarian and meat options and a mix of wide ranges of vegetables, noodles, mushrooms.
The Tongba beer (hot millet beer) that serves in wooden mugs keeps topping up with hot water after you finish drinking. The Tibetan set meals to look authentic are worth a try too.
Thakali Kitchen ($)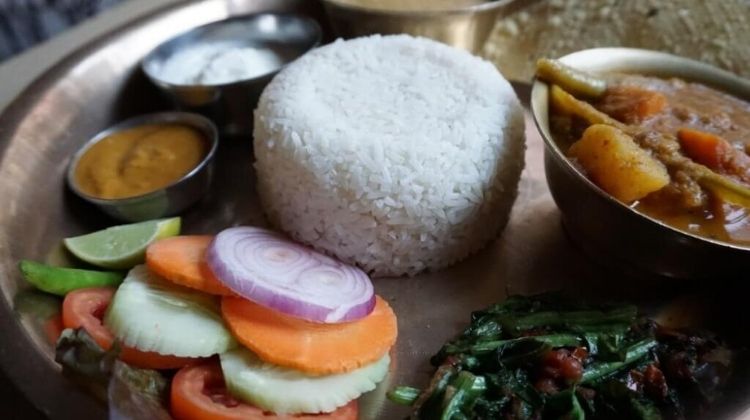 If you ask your Nepali guide where they head out for lunch they might recommend Thakali Bhanchha, an upstairs restaurant popular among locals in Thamel area. A must-try item on the menus Thakali mutton set modified Thakali version of dhal bhat If you want to experience even more local taste? Wash your hand and replace rice with dhido, a tasty buckwheat paste that keeps your energy up to 24 hours!
Dechenling ($-$$)
Pleasant courtyard seating and delicious Bhutanese and Tibetan dishes are the draws of the tranquil restaurant-bar garden, Dechenling. The menu features Bhutanese food (cheese and curry), chicken chili, Tibetan steamed bread, Yak cheese rice, or set meals. The price is reasonable with main dishes plus a draught beer.
Thamel Momo Hut ($)
Thamel Momo Hut is where both locals and tourists come for a quick snack. Located in the center of Thamel, this upstairs restaurant offers a great variety of momos from traditional buff momo to a more creative version like garlic cheese, spinach momo, there is desert momos like chocolate or peanut. You can order steamed or fried with a local beer or try Jhol momo, a sesame sauce that is perfect for a cold day.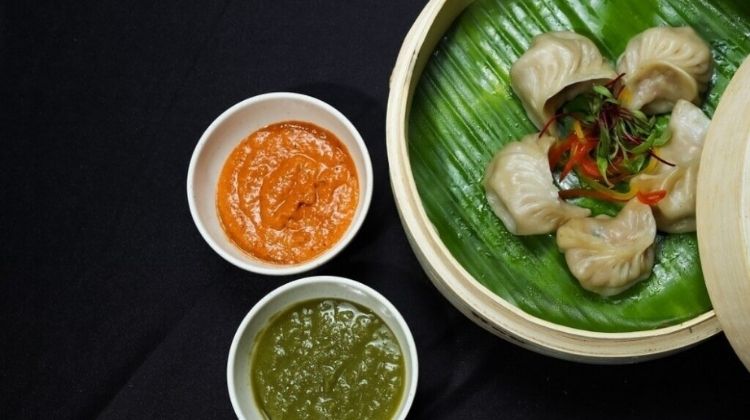 International restaurants in Kathmandu
OR2K ($$)
A relaxing and lively restaurant, OR2K situate on the second floor of Mandala street with a little hidden entrance. The owner is Israeli, hence the menu features Middle Eastern dishes with plenty of healthy vegetarian food to choose from such as falafel, hummus, salad, or OR2K signature Mediterranean platter.
Enjoy the chilling atmosphere when hanging out at night. With candle lighting, seating on the floor cushions at a low table, ordering a healthy juice or mint tea, and trying highlights of the menu.
Fire And Ice Pizzeria ($$)
The iconic Fire and Ice pizzeria restaurant has been serving traditional Italian food for 25 years. Customers often come for the fresh–baked pizzas which claim to be the best pizza in Kathmandu. The ingredients are a mix from home-style cheese, tomato sauce to high-quality imported ingredients making most 90% Italian style Pizza. Highlights on the menu are the signature Fire and Ice Pizza, Spinach pizza, and a good selection of pasta and salad dishes. The atmosphere is lively with Italian music, breakfast also available.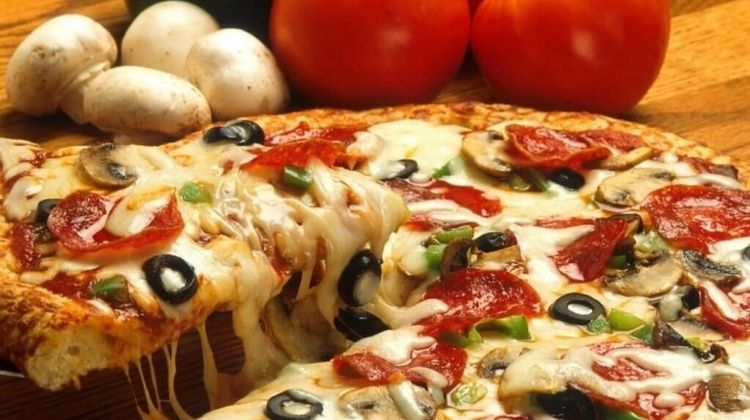 Rosemary Kitchen Restaurant ($$$)
Hidden away down a short alleyway is a romantic high-class restaurant Rosemary Kitchen that serves a mix of Asian and European dishes. The menu ranges from Nepali food to spicy Thai curries, but the tasty western dishes are amazing on every single bite. Highlights on the menu are homemade mushroom ravioli, cheese, and spinach stuffed chicken, Italian bruschetta. There are extensive options for vegetarian dining and must-try desert-like yogurt cheesecake carrot cake.
With a relaxing garden outside, candle lighting at dinner, the place is perfect for a fancy night out. If you come for breakfast, go for a Mexican breakfast set.
Third Eye ($$)
Third Eye remains at the top of Kathmandu's restaurant scene for a decade. The restaurant specialized in quality Indian and Nepal dishes. The decor and candlelit make a good ambiance, you can sit in the courtyard or dine on a sunny rooftop. The staff members are well dressed and professional. The tandoori dishes are juicy, the Chicken Jalfrezi with cheese naan is unforgettable. Let your waiter know how spicy you'd like to add up to your food and you'll get the perfect order.
Forest & Plate ($$)
If you were out on the trails living on heavily cooked food, Forest and Plate is where you get healthy fresh flavors again. The restaurant is a great little gem located on the top floor just above Himalayan Java in Mandala street, a cool place for dining. The menu features organic salads, tasty pasta, steaks, and chicken. You can watch professional chefs prepare your food. Cheese balls appetizer is a must!
Chez Caroline ($$$)
Situated in the Baber Mahal Revisited complex, Chez Caroline is one of the upmarket restaurants with outside courtyards seating and an extensive food menu that captures the spirit of France cuisine. Notable dishes such as wild-mushroom tart, rabbit in a mustard sauce, steak in pepper sauce, weekend brunch comes with great value. The ambiance of this place is lovely for a night out, with music playing in the background and the candles twinkling.
Mezze ($$-$$$)
Tourists and locals come to Mezze, a rooftop restaurant for its excellent Pizzas and great location over-looking Royal Palace. Manage by the Roadhouse group, the restaurants offer the same western-style food as its brother Roadhouse Cafe: amazing pizza, good salads, tapas-style dishes. A great place for a chilled evening and sipping a cocktail.
Saigon Pho ($$)
Founded by a Vietnamese lady who has a keen eye on services, Saigon Pho restaurant is the best place in Kathmandu for Vietnamese cuisines. The two-story floors restaurant has a lovely terrace on the upper floor where you want to have a view over the Lazimpat residential area.
The menu is large, but you can't ignore a hot bowl of Pho beef/chicken noodle soup, fresh green papaya salad, tasty shrimp spring rolls, fresh summer rolls, and a variety of pork BBQ dishes.
Their branches in Jhamsikhel, Bouddanath, and lakeside Pokhara have another name Pho 99.
Yin Yang Restaurant ($$-$$$)
Yin Yang is located in the heart center of Thamel's entertainment district but without motorbike noises. The restaurant serves authentic Thai food that keeps visitors coming back again such as tasty Papaya Salad, Pad Thai, Coconut Tom Yum soup, spicy curries.
It has beautiful outdoor seating and a warm upstairs dining room. Most prefer to sit outside with the vertical wall garden where you can see the chef preparing your meal. Yin Yang is a nice place to eat in Kathmandu at night.
Roadhouse Cafe ($$)
Treat yourself after a long week trek in the mountain with a Roadhouse signature wood-fired pizza, it might be one of the best pizzas you have eaten. Besides that, on the menu, there is a wide selection of excellent pasta, salads, and grilled dishes. Desert here are awesome and the Italian Illy coffee is good.
There is a courtyard that gives an escape from the busy street in Thamel. Roadhouse Cafe is definitively a go-to place for food and drinks in Thamel. It was still busy during corona-virus times when most places were deserted.
Another branch of Roadhouse Cafe is in Jhamsikhel, Boudha, Pokhara.
Gaia Restaurant ($-$$)
This is an ideal place to visit for dinner. The restaurant combines good food, a tranquil garden courtyard with a candle at night. The menu ranges from Nepali meal set, Thai red curry to an extensive Eurasian menu. The chef makes a tasty dish of the day that is worth trying.
Korean Picnic ($-$$)
Tucked away on a little quieter lane of Tridevi Marg, Korean Picnic restaurant has been serving authentic Korean food at economical fare for almost 10 years. The restaurant is frequented visited by expatriates, locals, and Korean nationals.
There are a lot of options to choose from the menu such as vegetable Kimpap, Kimchi miso stew set, Bibimbap served in a hot stone pot. But the most value-for-money dishes are lunchboxes with a lot of side dishes, go for a tasty Pork BBQ lunchbox or fried chicken lunch box.
The restaurant extends from a tiny size with two small rooms to the opposite two-story building with floor seating and table seating options.
Yala Café ($)
Down a quiet alley, Yala Cafe is a hidden gem restaurant of Kathmandu that offers amazing food and service. Delicious breakfasts such as Pancakes, Omelets, Banana porridge, Eggs Benedict go with tasty Nepal Organic Coffee from Japa. Now they extend to serve also lunch and dinner at an affordable price, authentic Thali with Everest beers, chicken filled with mozzarella in a white wine sauce.
Coffee and Bakery in Kathmandu
Himalayan Java ($$-$$$)
Himalayan Java Coffee is like Starbuck of Nepal, a local coffee-house chain that serves the coffee that they roast it their own. The place has a nice atmosphere with large working tables, small coffee tables, and a comfortable sofa, a pleasant place to sit and sip coffee, have your breakfast or work remotely with your laptop.
On the menu you find the best hot coffee in Nepal such as Cappuccinos, Lattes, Americanos, there are also good Iced coffee and smoothies, a honey latte is special and mint lemonade is refreshing. There is a collection of cakes like brownies, cheesecake, croissants, and western dishes as well.
In Thamel, there are two branches, one in Mandala Street and another in front of Himalayan bank. Himalaya Java in Bouddha has a stupa-view location while the Kathmandu Durbar Square spot overlooks the square.
Pumpernickel Bakery ($-$$)
Pumpernickel Bakery is a self-service bakery cafe that is a favorite breakfast spot among travelers and expats. They serve quality baked goods all day long, including fresh croissants not overloaded with sugar, cinnamon whirls, and pastries. Coffee is good to go with these tasty bread, a quiet garden seating area at the back brings a pleasant atmosphere. Sandwiches come at lunchtime.
Nepal Organic Coffee Shop ($)
A coffee lover likes to kick-start their daily routine at this small cozy coffee shop in A1 business complex in Thamel. With the vision from farm to cup, Nepal Organic Coffee has been roasting the quality organic coffee grown in Palpa Nepal since 1989. This place serves the strong flavor, persistent foam and quality organic coffee, whether it's a cup of Americano, Expresso, Cappuccino, Mocha, Choco Mint Frappe all come with great taste and good values too. A lot of people bring the delicious packed coffee home with them.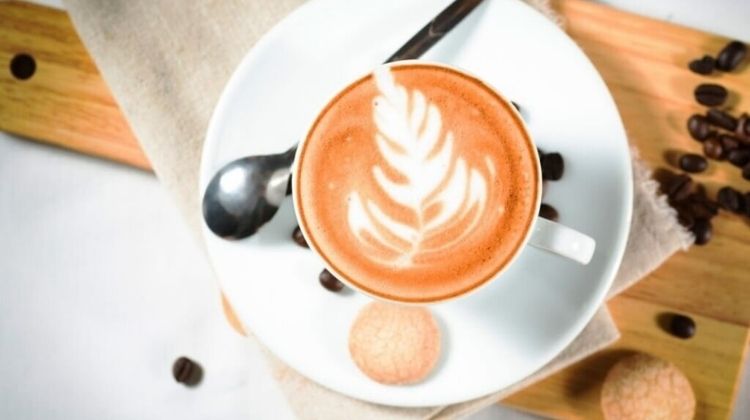 Chikusa Café ($)
Chikusa Cafe is a go-to breakfast place in Kathmandu for not only tourists but also locals and ex-pats. Walk down Amrit Marg road and look for a small board, "Tired of Nescafé?" Try some REAL coffee! and you'll find the oldest coffee shop in Nepal. The old traditional coffee bar offers cloth-filtered coffee, Moka pots with top-notch quality but comes at a reasonable price. Must-try breakfast items such as banana pancakes, lemon sugar crepes, French toasts. This place is more suitable for a quick snack and sips your cup of coffee than a workplace with a laptop.
Snowman Café ($)
The iconic Snowman cafe has been around the 1960s but still has the power that keeps you back to the old fashion day when the Beatles' music is playing in the background and the feeling that time stood still. The place sits just right off Old Freak Street where both local youths and tourists come for fresh-baked cakes and the chilling hippy vibe from another era. The chocolate cakes and apple crumble are classic, coffee is not a huge draw but the atmosphere.
Conclusion
We hope you found the list of Kathmandu's best restaurants to be helpful and we encourage you to explore this city with your family, friends, or on a solo adventure. The Nepalese people are friendly and there is so much to do in Nepal! If you are looking for information on things to do in Kathmandu we have you covered!