Nepal tourist visa is easy to get as the government offered a relaxed visa policy. Indian citizens are free to enter Nepal without a visa. While most other countries can get visas on arrival.
What you'll need:
Passport must be valid for 6 months and at least 1 blank passport page for visa.
Passport-sized photos if you apply for the visa at the land border.
Name and address of the hotel in Nepal.
Tourist Visa Price
15 days (multiple-entry)/ $30 USD
30 days (multiple-entry)/ $50 USD
90 days (multiple-entry)/ $125 USD
Visa Extension/ $3 USD/per day
Visa Extension (multiple-entry)/ Additional of $25 USD
Visa Extension (after visa expiration)/ Late fee $5 USD/per day
Gratis Visa
Chinese citizens
Children below 10 years old.
For nationals of SAARC countries get the first 30 days are free (except Afghanistan)
Get Nepal Visa On Arrival
If you travel by air you can get a visa on arrival at Tribhuvan International Airport in Kathmandu. If you cross the border you can get to the entry point. With maximum stay is no more than 150 days.
Who can get a Nepal visa on arrival?
Citizens of most nations can get Nepal visa arrival. Except below countries:
Nigeria
Ghana
Zimbabwe
Swaziland
Cameroon
Somalia
Liberia
Ethiopia
Iraq
Palestine
Afghanistan
Syria
Get a visa at the airport
Step by step to apply for a visa on arrival:
#1: Apply for a visa
Find the electric kiosks, put your passport to scan for information or manual input. Fill in the form and get the print receipt.
Note! You can register for the online VISA form in Nepal's immigration department to avoid lengthy queues and waste of time. (See how to apply for a visa online)
#2: Make payment
You need to have cash in hand for visa payment. The following currency is accepted at the airport: Euro, Swiss Franc, Pound Sterling, US Dollar, Australian Dollar, Canadian Dollar, Hong Kong Dollar, Singapore Dollar, and Japanese Yen.
You can't use a credit card to pay for a visa, and ATM malfunction is quite common. So cash payment is the norm.
#3 Visa processing
Find the correct line to your visa. You need a Passport, payment receipt, and printed visa form.
Tips: Save time by applying for your visa on arrival online. (There are only limited Kiosks machine and the usage is confusing)
Get a visa at the border
You will need a US Dollar bill (US bill should be new 2013, good condition) and passport-sized photos in order to get your visa at the border.
India border:
Kakadvitta (Jhapa District)
Birgunj (Parsa District)
Nepalgunji (Banke District)
Bhairahawa (Rupandehi District)
Dhangadhi (Kailali District)
Mahendranagar (Kanchanpur District)
China border
Kodari border (Sindhupalchowk District) is only available for group tourists.
Get visa at embassy/consulate
If you don't want to wait for hours in the airport to get a visa during peak season, you can apply for a visa at a Nepalese embassy or consulate before traveling to skip the queue.
You must enter Nepal within six months from the visa issued date
Apply your Visa Online
You can apply for your visa online for an arrival visa and pre-arrival visa. Apply within 15 days before arrival.
Where to apply for a visa online: https://nepaliport.immigration.gov.np/
Here is a brief step-by-step:
1) Choose your entry point (TIA if you arrive by air)
2) Input your passport information (Don't worry, this information is generate for testing purposes)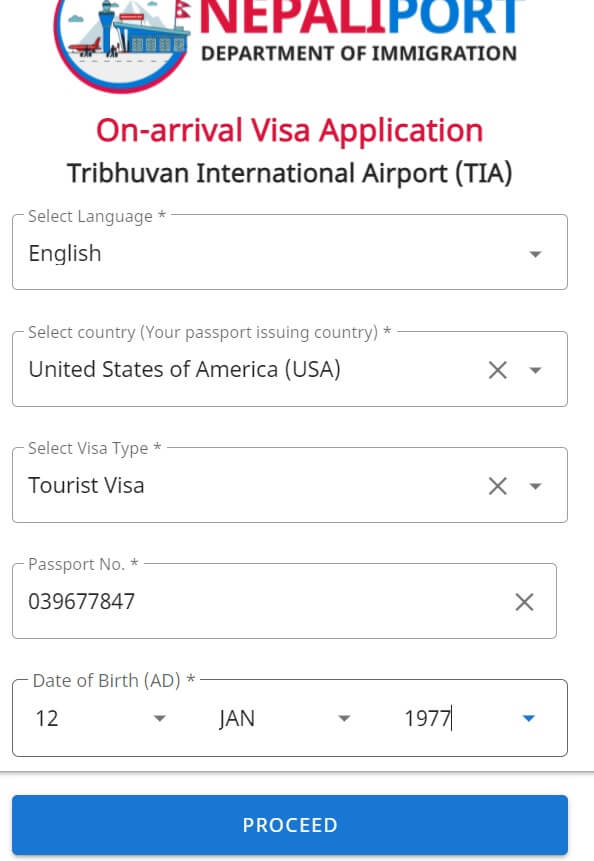 3) Fill in personal information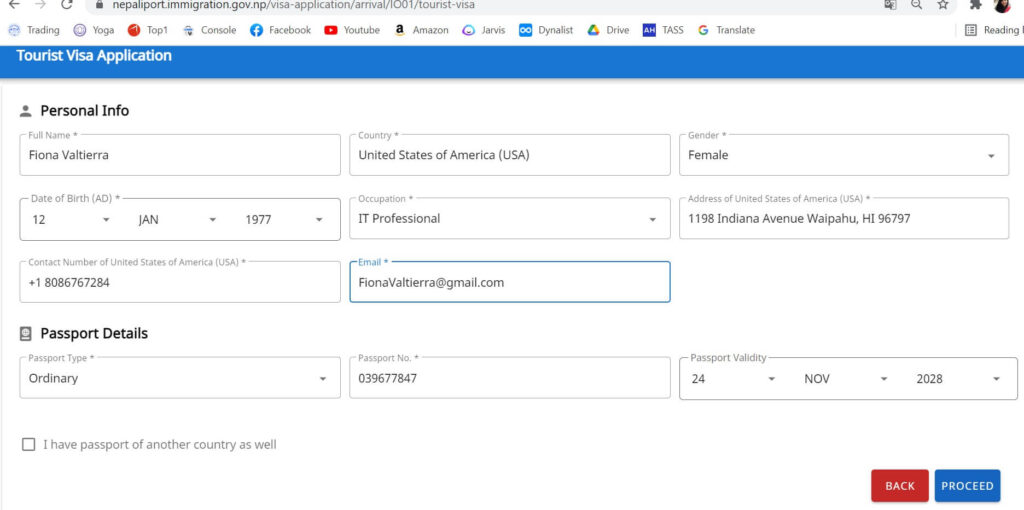 4) Choose visa option, flight detail, hotel address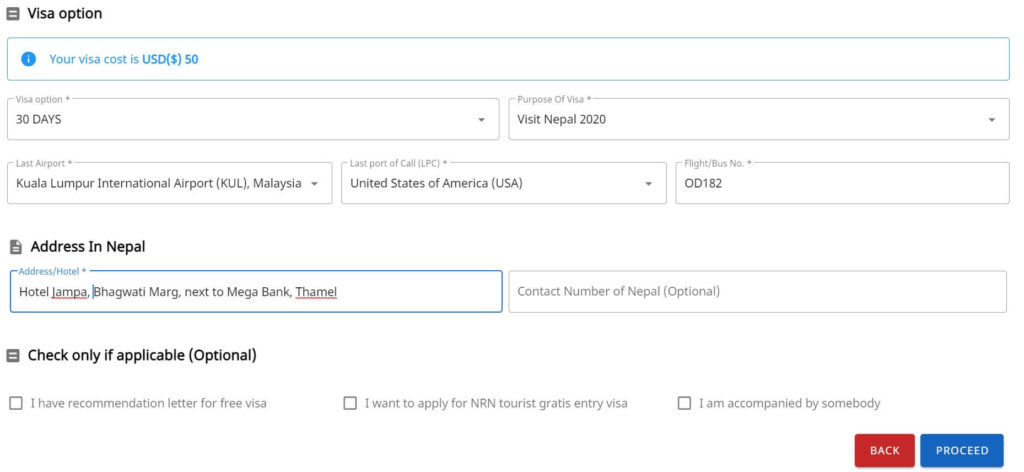 5) Review the information and print out the application form.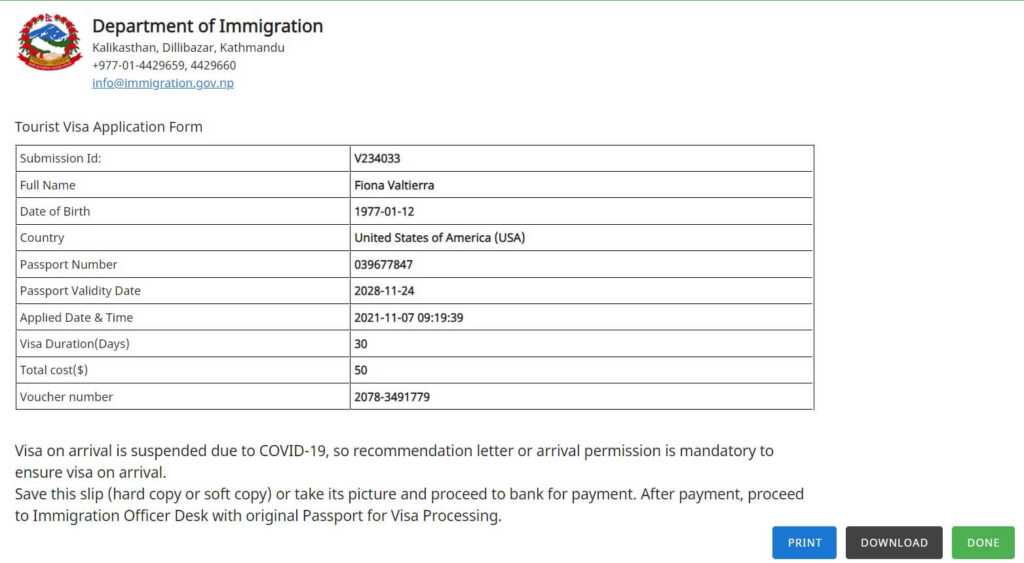 If you apply for a visa on arrival, you can pay at the counter in the airport then get the visa. You should have a sum of $30, $50, or $125 for the number of days you'll need to apply for a VISA to avoid waiting at the airport for money.
Nepal visa coronavirus (Update Sep, 2021)
The following documents are necessary in order to apply for a visa on arrival.
1) Complete the 14-day full CONVID-19 vaccination
2) A negative PCR test result within 72 hours of departure
3) Hotel reservation in Nepal
4) Trekking permit or mountaineering permit
5) The printed version of the summit form from COVID-19 Crisis Management Co-ordination Center
Please be advised that if you haven't completed your vaccination, you'll need to obtain a visa before entering Nepal.
For more up to date check out Nepal department of Immigration website.
What's next?
When you are planning your trip to Nepal, there are many things that can be done ahead of time. For example, applying for a Nepalese visa online is something that makes it faster when getting your visa on arrival. That said, it's not always easy or straightforward and sometimes people need help on where to start with this process. This article breaks down some important aspects about getting your Nepalese visa so read through these tips carefully!
If you want more information about Nepal check out this article best places to visit in Nepal.