Most people who have climbed the Everest Base Camp Trek realize that tea house trekking in Nepal isn't as difficult as they had imagined.
It's also possible for anybody who is capable of walking up and down steep slopes without difficulty. You may trek for weeks in the mountains and know that there are warm beds and hearty meals at the teahouse waiting for you at the end of the day.
No tents, no cooking stoves, no mattresses required. You may keep your gears to a minimum. (And if you don't want to haul a heavy backpack, you can hire a porter.)
This is an in-depth guide about tea house treks in Nepal, what to expect and what to prepare.
What is teahouse trekking in Nepal?
Teahouses along trekking routes in Nepal are often owned by local families, providing rest and home-cooked meals. The buildings are generally constructed of wood or stone. And contain dining rooms, kitchens, and bedrooms.
In the lower elevations of some popular trekking regions, the tea house can be a multi-story structure with private western-style toilets. The quality of tea houses deteriorates as you go higher up. There is only a shared toilet outside and often a squat style.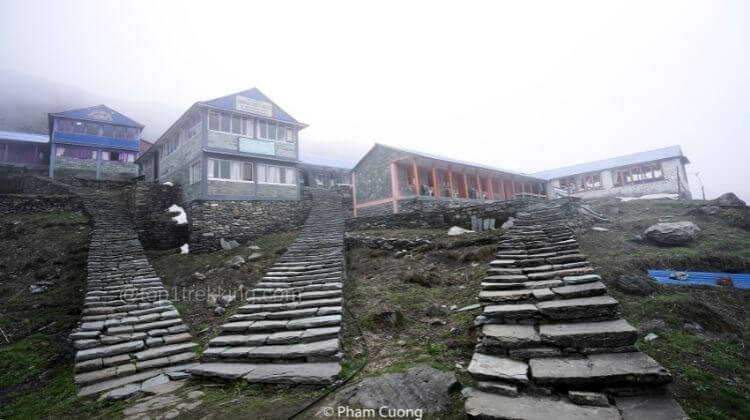 In some conservation areas like Annapurna or Manaslu, the National Trust of Nature Conservation (NTNC) regulates how many tea houses may be built to minimize environmental effects. Each tea house must adhere to certain standards, including a fixed price and a standard menu.
Tea houses scatter out on most trekking routes in Nepal. Every 2-3 hours on the Annapurna route, you may see a teahouse; other remote treks like Upper Mustang can take up to 4-5 hours.
The interesting aspect about trekking in Nepal is that it takes you through villages inhabited by Nepalese inside the conservation area. As a result, you will not only see nature's beauty but also get an insight into the local people of the Himalayas.
Dining hall
The dining room is a great spot to meet other trekkers. A wood-burning stove in the middle of the chamber warms up the space at night. When rooms are full, people sleep on benches in dining halls.
There is no assigned seating in most cases. You may sit wherever you choose. If the dining room becomes excessively packed during peak season, you may have to share tables with others.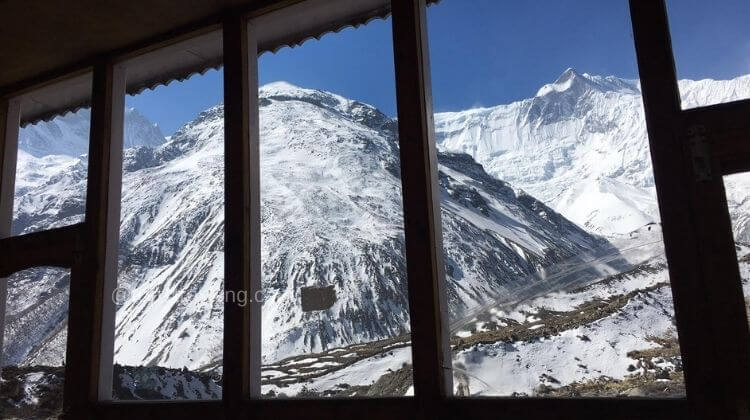 Kitchen
The kitchen is generally a small room next to the dining hall. It's where you'll find the teahouse owner and his staff preparing meals. When there aren't enough people to cook, the trekking guide and porters assist.
Room
The rooms are tiny and basic, containing two or three beds. The mattresses are thin, and the pillows are often hard. Most tea houses have blankets, but there is no assurance of their cleanliness, so it's best to bring your own sleeping bag for a good night's sleep.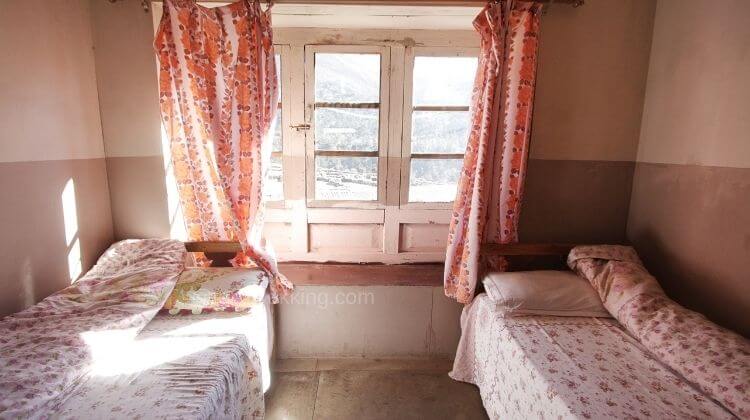 The walls in this room are rather thin, so if you don't want to hear the noise from the neighboring room when sleeping, wear earplugs.
The majority of the room has a window (depending on the site, you may get a spectacular view of the Himalayas). The light bulb is usually hanging from the ceiling, but it isn't always very bright.
Some teahouses in the big village come with their own bathrooms. But most of the time you'll be staying in a standard room and using the toilet facility outside.
Toilets and Showers.
The toilet is typically close by and is often a squat style. There is no hot water, so clean yourself with cold water instead. Bring enough toilet paper and hand sanitizer with you because they are not always available. In some tea houses, there is a western-style toilet; but, it's not very common.
Showers are located outside the facility. In most teahouses, hot showers are available for an extra fee, making wet wipes handy.
Wi-Fi & Electricity
Most tea houses use solar panels for electricity, a clean and renewable source. You can charge your electronic devices in the dining hall area during meal break for a small fee ($1-$2). But on a cloudy day, there may be a power shortage so bring an extra battery or solar panel charger.
Wifi is available in the dining hall area but the connection is not reliable and it may go off after some time.
What about food and drink?
Almost all teahouses offer the same menu which includes Nepalese, Tibetan, and Western food. You can choose Nepalese staples like Dal Bhat (lentils and rice), momo (dumplings), or thukpa (noodle soup). If you're looking for something more familiar, most tea houses offer pizza, pasta, noodle dishes.
For hygiene reasons, most trekkers, guides, and porters opt for locally made dishes like dal bhat. The main dishes cost around 2$ and climb up to 10$ as you go higher.
Tea is the drink of choice in Nepal and is available everywhere. You can order a black tea or milky tea.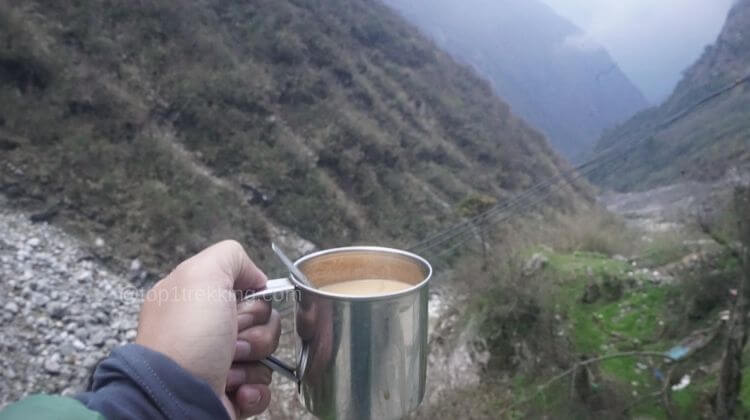 BREAKFAST
The breakfast menu is usually quite simple. It might include toast, eggs, muesli, pancakes, chapati, and Tibetan bread. There's usually a variety of jams, honey, and Nutella to put on your toast. You can also order hot tea, coffee, and chocolate.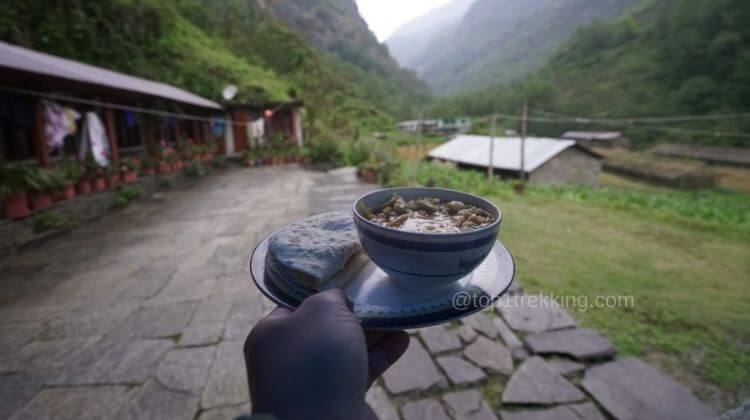 LUNCH & DINNER
The lunch and dinner menus are similar. They both typically include a wide selection of main dishes, soup, and noodles. The majority of the teahouses have a set price for lunch or dinner at around $ 10-15.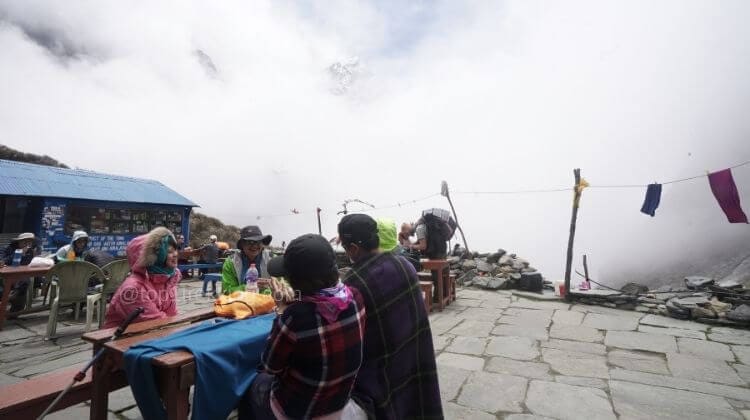 Main dishes:
Dal Bhat, momo, fried rice
Pasta, spaghetti, sandwiches, noodles
Pizza (available in lower elevation or big village)
Side dishes:
French fries
Salad (tomato and cucumber)
Spring rolls
Soup (mushroom or vegetables)
Desserts:
Apple pie (Must try)
Chocolate cake
Drinks:
Tea, coffee, hot chocolate
Banana milkshakes
Alcoholic drinks are available in some places.
Do I have to book anything beforehand?
If you book a teahouse trekking package, the agency will usually handle all your tea house bookings. The majority of the tour includes accommodation and meals in the price except for personal snacks and drinks.
However, if you go trekking on your own, you'll need to plan ahead of time. During peak seasons teahouses fill up fast on some popular trekking routes. The room is priced at $5 (in some locations it's even complimentary) but the food is expensive. Food costs increase the higher you climb because family-owned teahouses rely on food and beverage sales to supplement their income.
What kind of gear do I need while trekking the tea houses?
You'll want to have good trekking boots, backpacks as the weight carried on your back are distributed evenly. A sleeping bag, water filter, sun hat, sunglasses, and sunscreen are must-haves for trekking.
Trekking in Nepal necessitates dressing in layers, as the weather is known to change rapidly. Here is a detailed rundown of what to bring on your teahouse trek.
The 5 best teahouse treks
Everest Base Camp
The Everest Base Camp Trek is one of the most popular tea house treks in Nepal and throughout the world. On this trek, you will not only see Mount Everest, but also other magnificent mountains such as Cho Oyu (8201m), Lhotse (8560m).
The trekking routes are well-maintained, and the tea house lodgings are quite comfy. You can get a cup of hot cappuccino and a French pastry in Namche Bazaar, with a beautiful mountain vista. Everest Base Camp trek is no surprise as it's an attractive destination.
However, during peak seasons (Oct-Nov and Mar-May), this teahouse trek is often jam-packed with tourists. If you don't want to deal with the crowds in the Everest region, there are several alternatives such as the Gokyo trek and the Everest Three Passes Trek.
Annapurna Circuit Trek
The Annapurna Circuit has been a popular trekking route in Nepal for years, providing a variety of cultural experiences and magnificent scenery.
The route passes through spectacular scenery, including terraced fields, dense forests, and high-altitude Tibetan settlements. After crossing Thorung La Pass (5,416m), Mustang's semi-desert region appears in front of you. Annapurna range will be visible from all angles.
This teahouse trekking features good quality tea houses, well-maintained terrain, and tasty apple pie.
Manaslu Circuit Trek
The Manaslu Circuit Trek walks around the world's eighth-tallest peak. The walking trails are like a novel: remote yet not crowded, it passes over many thrilling suspension bridges, authentic Tibetan villages. This is one of Nepal's finest treks and gradually replacing the Annapurna Circuit Trek in terms of its popularity.
The highlight of this trek is the crossing of Larkya La (pass) at an elevation of 5125 meters. The pass offers a magnificent view of Mt Manaslu, Himal Chuli, Annapurna II, and other peaks.
Tea house accommodation on Manaslu Trek is not as luxurious as Everest and Annapurna region because of its remote location. But, the challenging and beautiful scenery of the trek is worth it.
Annapurna Base Camp Trek
Annapurna Base Camp Trek has some of the most stunning base camp vistas in the world. And climbing Annapurna Base Camp is the shortest route to access the frozen heart of the Himalayan summits. Facing up to the world's most dangerous mountain to climb – Annapurna I (8,091m)
The trek passes beautiful Gurung stone villages with terrain that varies from pine forests to glacial valleys. You will see Machapuchare (6,993m) known locally as "Fish Tail", a sacred mountain that is not allowed to climb.
This trek requires a moderate level of fitness, there are good quality teahouses for the entire route. And if you have the budget you can hop on a helicopter flight from the base camp back to Pokhara city to unwill after the trip.
The Annapurna region is home to some of the finest trekking routes and treks in Nepal. If you want a short, easy trek, the Ghorepani poon hill trek is for you; if you prefer a less-crowded path Mardi Himal trek is an excellent option.
Langtang Valley Trek
The Langtang Valley Trek is one of the most popular tea house treks in Nepal. The trail passes through rhododendron forest, waterfalls, and lush green hills with panoramic views of Langtang Lirung (7516m).
The trek follows the Langtang River, passing through Kyangjin Gompa. You will see Buddhist stupas and Tibet-style lodges along with the rich local culture of Tamang people who live in this region.
This trek offers a taste of Nepal's best tea house treks at relatively lower elevations. The landscape is beautiful and friendly people make it all worthwhile. The itinerary for this trek can be easily tailored to your preference.
CONCLUSION
I hope this guide gives you an idea of what to expect on teahouse treks in Nepal. And some popular treks that you might be interested in. If you are looking for a more challenging trek check out the best treks in Nepal article.