Here is the list of 17 Best things to do in Kathmandu (Both tourist & local spots.)
I spend a few years living in Kathmandu, visiting many places, and was still surprised by the hidden corners to explore.
When land at the international airport in Kathmandu, you may not impressed with the city because of the dusty road and chaotic streets. But spend sometimes in the capital, it has so many things to offer you.
Let's dive right into the top things to do in Kathmandu.
#1. See Bouddanath from the rooftop
Getting to the rooftop to see Bouddanath Stupa is one of the best things to do in the chaotic Kathmandu city. I do it most of the time I visit Bouddhanath. (And I recommend that you do the same.)
Once you are here, you see a lot of people circle around the stupa. To join the crowds, stroll the stupa clockwise and see Tibetan Buddhist spinning prayer wheel, chanting with mala or lighting up the butter lamp for prayer.
Another great way to explore this area is by visiting monasteries center around.
But seeing the stupa from the rooftop is the real price.
Even though I am not a Buddhist. When looking at buddha eyes on top of the white doom and prayer flags fluttering under the wind. I feel there is a spiritual connection and a calm vibe that I can't find anywhere else in Kathmandu.
Tips: If you want to learn about Buddhism, the International Buddhist Academy hosts free 90 mins talk on Sat & Sun morning.
#2. Travel back in time in Bhaktapur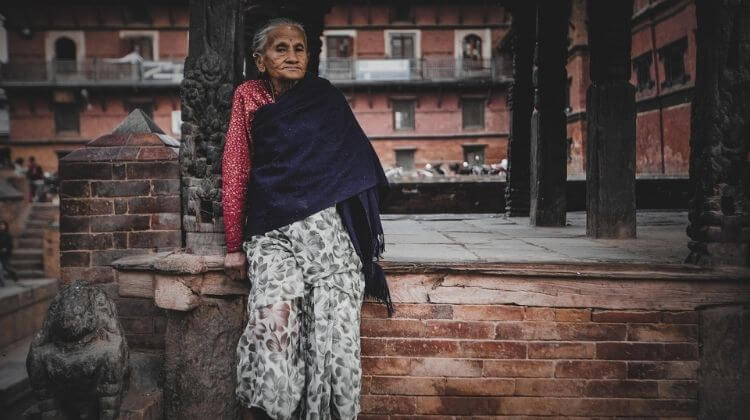 Among 3 Dubar squares in Kathmandu valley, the #1 in my opinion is Bhaktapur Dubar Square.
A "Living Museum."
Notable sights included 55 window palaces, 5 story pagoda style temples of Nyatapola, Dattatreya Temple, Pujari Math, National Art Gallery. Most of the architecture is wood, metal, and stone crafting artworks by the Newari. (One of the best places in Kathmandu for photography.)
The whole area is listed in Unesco World Heritage. Wander the narrow streets from Taumadhi Square to Dattatreya Square and see how locals keep the same way of life for centuries.
The downside is it is a little bit outside of the valley, you can get stuck in traffic when you get there.
Tips:
Looking for the peacock window (Monalisa of Nepal)
Try the tasty local yogurt, serve in a clay spot. The shop is just next to the entrance of the main gate.
Stay the night in a traditional building hotel, wake up early to see the morning activities.
#3. Visit Pashupatinath Temple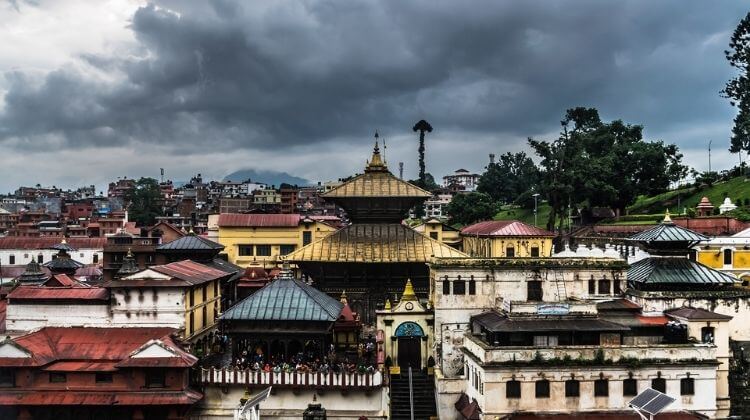 Pashupatinath Temple is the most important religious site in Nepal. And sacred to Hindus. Every year, during the Maha Shivaratri festival millions of Hindus across the globe visit Pashupatinath for celebration.
The temple complex consists of hundreds of temples, shrines to explore. But the main Shiva temple allows only Hindus.
Inside the complex, you find lots of painted sadhus who live and meditate here. (Some ask for money when taking photos.)
If you are not afraid of seeing open-air cremation, watching how life ends here is a unique experience.
The top 3 destinations cover in our Kathmandu day tour.
#4. Wander around Thamel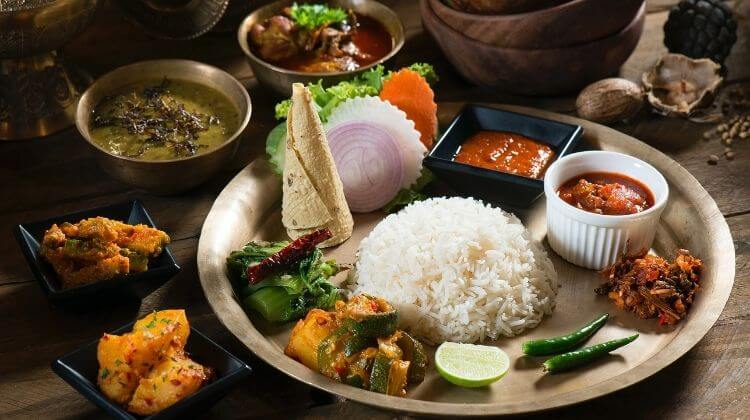 Thamel may not be everyone's cup of tea as a backpacker area. It's chaotic and touristy. However, it is an essential destination for a variety of reasons.
You may dine on a variety of cuisines, including Nepalese and international cuisine. Many organic Himalayan coffee shops to get you started in the morning. And lively bars for night owls who enjoy partying.
If you're a shopper, you'll adore this place. There are numerous merchants selling all types of gear for trekking, books, souvenirs, handcrafted jewelry, thangka painting, crafting, scarves, and other items.
It's great to come across a place like this, where you can walk around without getting run down. It's possible to wander about in the whole area because it is off-limits to cars. There are old buildings and homes, hidden alleys, temples, stupas, and interesting local markets within walking distance.
#5. Get lost in the market Ason
If you like to take photos of the lively market full of locals, do not miss Ason Bazaar. The beating heart of the capital from ancient times till now. It's only a 10-minute walk from Thamel. The vibrant and exciting marketplace sells everything from all across the country.
There are 6 different streets that lead to Ason, and before long, you find yourself lost among people, kiosks, tall buildings, and roads. A good place to look for a sari to bring home.
There are Annapurna temples, stonefish, traditional houses, and construction to explore.
Tips:
Try the mitho lassi, a native yogurt drink that gives you a sense of freshness.
#6. Head to the top of Swayambunath
Build on top of the hill, Swayambunath Temple soaring high over the Kathmandu landscape. Here is one of the best places to see the panorama view of the city. On the top, buddha's eyes on the apocalypse gaze in all directions over the valley.
Before you can reach the top, you must climb 365 steps. And there are monkeys nearly everywhere you turn!)
The area consists of stupa, shrines and is the focal point for worship and meditation.
The kora circle at the base of the temple complex is bigger than in Bouddhanath.
Go to the temple at sunrise or sunset to see the valley.
#7. Meditation at Kopan Monastery
If you wish to have a day out of the city in Kathmandu, visiting Koban Monastery is an excellent choice. The monastery is home to hundreds of nuns and monks.
Stroll around the stupa, see monks praying in the great prayer hall, and observe the life at the monastery.
There is a pleasant garden where you may walk around, as well as a cafe bar with views of Katmandu.
On Saturdays, the monastery is open to visitors and it is closed on the other days of the week for lessons. (You may benefit from calling ahead)
If you're interested in Tibetan Buddhism, there are several courses to choose from. The length of the course is dependent on your needs. There are classes available ranging from 5 days to one month. Every day, you'll learn about Tibetan Buddhism through lectures and meditation, as well as a vegetarian dinner.
To get there you can take a taxi or do a pleasant hike from Bouddanath.
#8. Watch the sunrise at Nagarkot
One of the finest things to do while staying in Nagarkot is watching the sunrise over the Himalayas from your hotel balcony.
Nagarkot is accessible by car or a day hike from Kathmandu. The hill offers very broad views of mountains from east to west: Everest, Langtang, Manaslu, Annapurna.
However, if you want to see mountains, you'll need to book a trip during a clear day. Autumn (Oct to Dec) and spring (Mar to Apr) are the best times to go to Nagarkot.
#9. Explore the royal city of Patan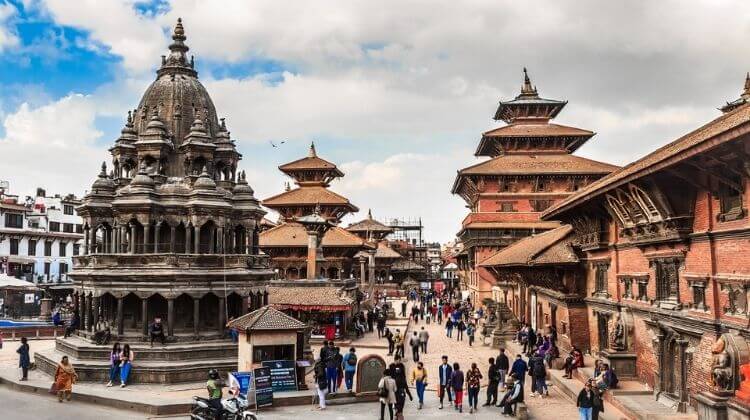 Explore Patan Dubar Square is another great thing to do in Kathmandu.
You may view a lot of attractions by paying the entrance fee equal to a star buck coffee.
There are several squares filled with traditional historic: royal palaces, religious shrines, ancient temples.
Must see in Patan:
Patan Dubar Square, home to the Malla kings. Beautiful wooden architecture
The golden temple the Buddhist monastery
Krishna Temple built by stone
Kumari house, the living goddess of Patan
The place is the filming location for Marvel's movie Doctor Strange.
#10. Catch a glimpse of the living goddess in Dubar Square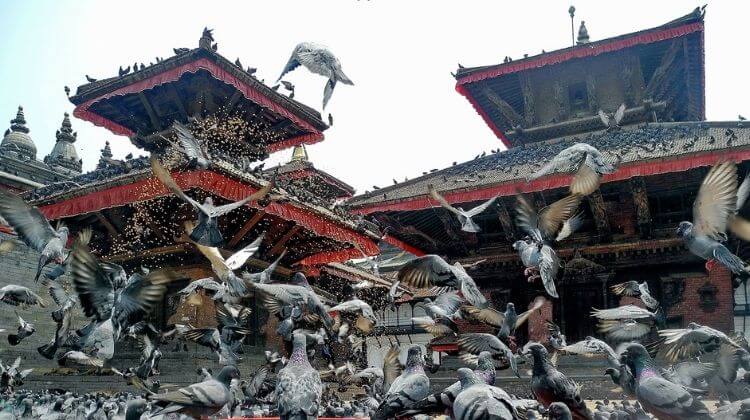 For a thousand years, the king's crown has been in Dubar Square and he has ruled from his palace. As a result, there are a lot of historical structures, temples,, and traditional homes in the region.
The Kathmandu Dubar Square was severely damaged by the 2015 earthquake. Restoration work is now being done on several structures.
Here are some things to do in Dubar Square:
Finding the Hanuman Dokha the monkey god
Look for the living goddess Kumari in Kumari Ghar. The Goddess Devi's living incarnation is called Kumari. Her abode is surrounded by a lot of wood carving artistry.
Explore temple Kashmandap, Taleju,
#11. Fly high to see Mount Everest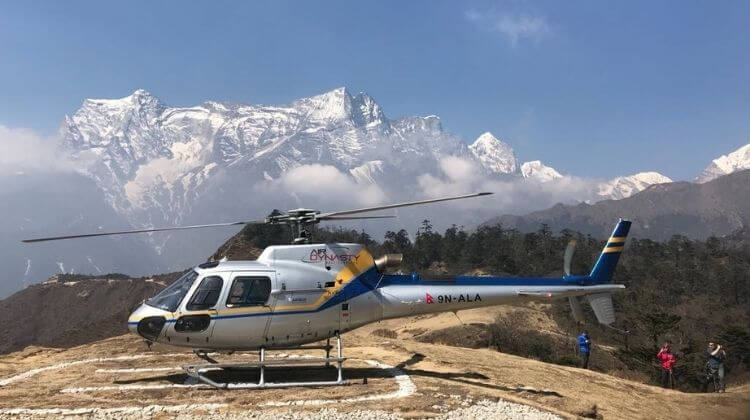 If you don't want to trek but still wish to snap a photo with the world's highest peak, take a helicopter flight to Everest base camp.
The trip begins at Kathmandu's Tribhuvan International Airport and takes you over rolling hills and valleys to Lukla, where you'll arrive at the Everest View Hotel. The Kala Pathar viewpoint is reached after landing in Lukla.
At the Everest View Hotel, you may dine on some of the best breakfasts with great Himalayas views. Also, at 5,500+ meters above sea level, you can see the world's tallest peak – Kala Pathar.
Another, less expensive alternative to view Mount Everest from a bird's eye perspective is a mountain flight. On the window, you may see the peak of Mount Everest.
#12. Join the monk prayer at Namo Buddha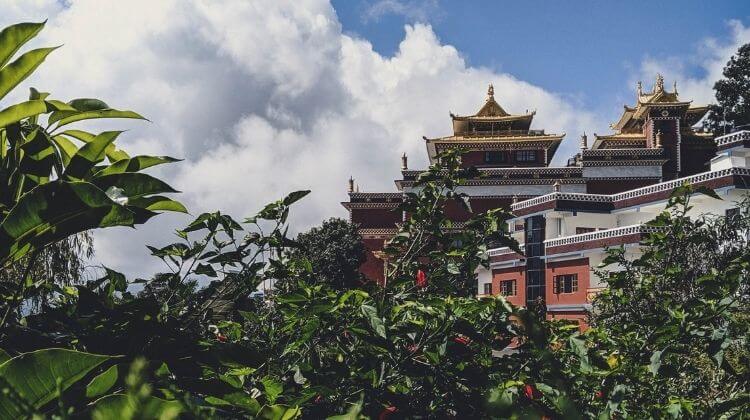 Namo Buddha is one of the best places to go in Kathmandu for a breath of fresh air, see blue skies, and relax your mind. It's a long way from the city, so it'll take you all day roundtrip.
You may stay the night at Namo Buddha and join the Monks in chanting the mantra with huge horns and drums in the afternoon or morning. There is a café on the top floor with spectacular views of the valley.
It is also nice to go on a trek from Namo Buddha to Panuati if you have time.
#13. Hike Shivapuri National Park
Want to get out of the city and into nature? A fantastic hike is a one-day trip to the top of Shivapuri hill. Just 15 kilometers from Kathmandu center.
Take the hike from the nunnery side to Nagi Gompa. Good chance to do bird watching and get the views of the Langtang mountain.
Have more time, continue the hike to Chisapani and stay for the night.
#14. Ride cable car to Chandragiri Hill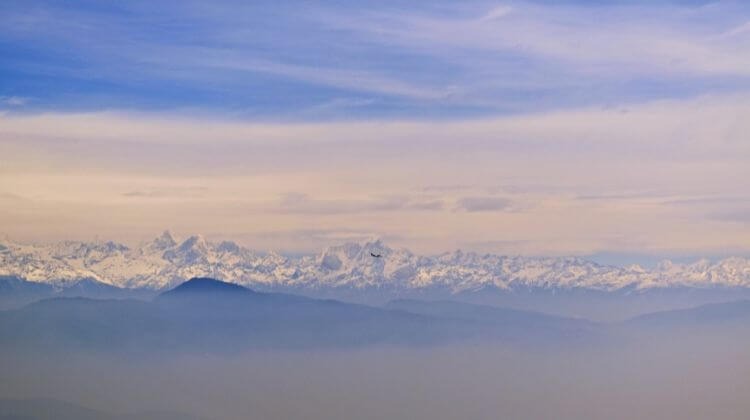 At 2,500 meters, Chandragiri Hill provides views of the Himalayas and a glimpse of Mount Everest. (On a clear day.) The scenic cable car ride begins at Thangkot and transports you above the countryside to the top in 10 minutes.
You can look over the pollution and haze in the valleys to see peaks. And sit in the restaurant to enjoy your food with a view.
Make sure you check the weather before you go.
#15. Relax at romantic Garden of Dreams
The Garden of Dreams is charming in this chaotic Thamel. The romantic and picturesque garden is an excellent spot to spend your day. Simply sit, sip a cup of coffee, and read a book.
You can also go for a stroll around the peaceful garden, admire the gorgeous flowers, and watch squirrels scaling trees from tree to tree as youngsters come to snap photographs.
#16. Taste Newari food in Kritipur
Although Kritipur is not yet on the Unesco World Heritage List, it's worth a trip. This is where Newari cultural traditions have had a significant influence on local life, especially in terms of cuisine.
To get a feel for the town's history, take a stroll around it. The Gorkha King was defeated twice before and only succeeded on the third try. Explore the small village and visit the Bagh Bhairab temple, Chilanchos Stupa. End your trip in a local eatery to sample authentic Newari cuisine and alcoholic drinks.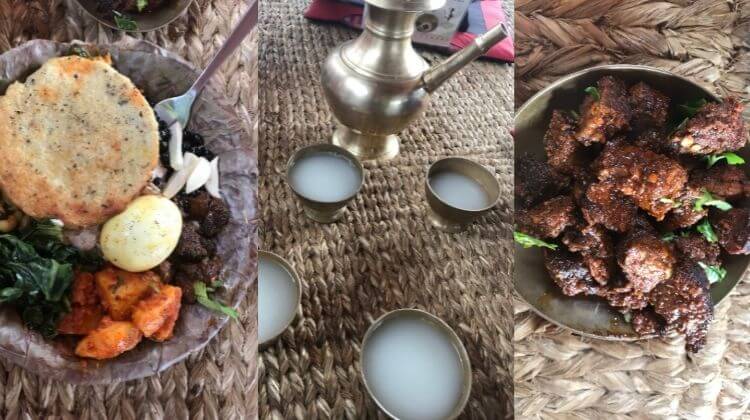 #17. Take a sound healing therapy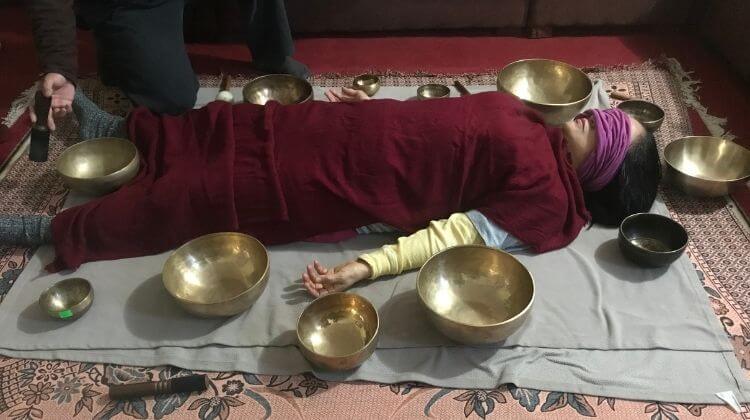 Kathmandu is a great place to heal your mind and body through a sound therapy healing session.
What exactly is sound healing, and what does it entail? You might be curious. In a session, the Tibetan singing bowl produces varied sounds waves, each one with its own distinct sound.
Singing bowls are placed around your body by a therapist, the sound waves produce a vibration that gently massages deep tissue. For energy to flow freely through your chakra, open it.
CONCLUSION
Kathmandu is a city that has an incredible amount of culture, history, and natural beauty. However, as with any other place in the world, it can be difficult to decide what to do when you get there.
I've created this article to serve as your guide for things to do while visiting Kathmandu so that you don't miss out on anything!
In case you want to learn more about Nepalese cuisine or just need suggestions for where to eat dinner tonight. Read on our Kathmandu restaurant list for further information.