Nepal is known as the birthplace of Buddha Lumbini, the world's highest peak Mount Everest, and it is a poor country that was struck by a massive earthquake in 2015.
Nepal is one of the few countries in the world where you may experience both varieties of cultures and nature, making it well worth seeing at least once in your life. From historic cities to exploring local culture to towering mountains where you may hike for weeks, this beautiful country in South Asia offers a lot to see.
However, there are a few things to keep in mind before visiting Nepal. This article will address these topics so that you may have an amazing experience while still being safe!
The best way to get a Visa
Tourists (except Indian nationals) must obtain a visa in order to visit Nepal. The visa may be obtained at the airport upon arrival or at numerous border crossings throughout the country. You can also apply for a Nepal visa before your trip to the Nepalese Embassy.
Visa on arrival
Is the easiest way to get a visa. If you choose this option, then simply show up at Tribhuvan International Airport.
Nepal tourist visa fee is US $30 for 15 days, US $50 for 30 days, and US $125 for 90 days.
Visa extension: You can extend your stay in Nepal for a maximum of 150 days. The immigration office is the only place to submit an application for an extension.
Read more detail on how to apply for your Nepal visa
Best time to visit Nepal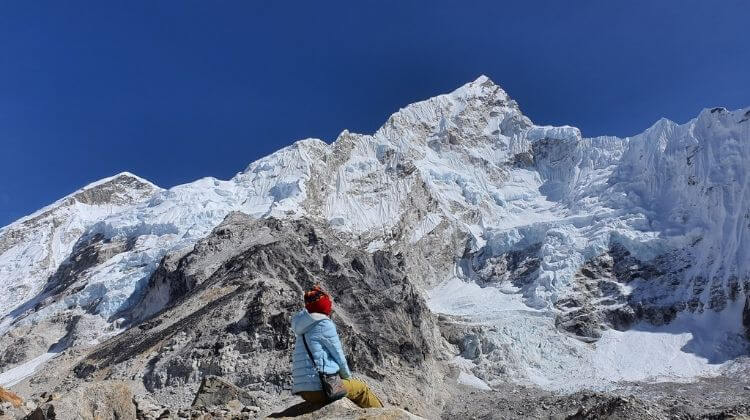 The best time to visit Nepal is between October and November, right after the monsoon season. This is when the sky is blue and the weather condition is perfect for plenty of activities! However, this window of time may be crowded with other tourists due to it being a peak season in the Nepal tourism industry.
Flowers in bloom make it a lovely time of year to explore the mountains from April through May. The Nepalese welcome the new year in mid-April, so be prepared for a lot of noise and celebrations everywhere!
Here is an in-depth guide on the best time to visit Nepal.
Flight to Nepal
There is only one international airport in Nepal, which is Tribhuvan International Airport. And there are only a small number of international airlines flying to Kathmandu. The following destination has direct flights to and from Nepal: Delhi, Dubai, Bangkok, Kuala Lumpur, Singapore, Doha, and more.
And some of the airline companies that fly to Nepal are Nepal Airlines, Thai Airways, Qatar Airways, Malaysia Airlines, Turkish Airlines, Buddha Air, etc
Check out this chart for reference.
| City | Country | Airlines |
| --- | --- | --- |
| Dubai (DXB) | United Arab Emirates | flydubai, Himalaya Airlines, Nepal Airlines |
| Doha (DOH) | Qatar | Qatar Airways, Himalaya Airlines, Nepal Airlines |
| Kuwait City (KWI) | Kuwait | Jazeera Airways |
| Sharjah (SHJ) | United Arab Emirates | Air Arabia |
| New Delhi (DEL) | India | Air India, Nepal Airlines |
| Kuala Lumpur (KUL) | Malaysia | Himalaya Airlines, Malindo Air, Nepal Airlines, Malaysia Airlines |
| Dhaka (DAC) | Bangladesh | Biman, Himalaya Airlines |
| Dammam (DMM) | Saudi Arabia | Himalaya Airlines |
| Abu Dhabi (AUH) | United Arab Emirates | Air Arabia |
| Colombo (CMB) | Sri Lanka | SriLankan |
| İstanbul (SAW) | Turkey | Turkish Airlines |
| Singapore (SIN) | Singapore | Singapore Airlines |
| Muscat (MCT) | Oman | SalamAir, OmanAir |
| Riyadh (RUH) | Saudi Arabia | Himalaya Airlines |
| Varanasi (VNS) | India | Buddha Air |
| Hong Kong (HKG) | China | Nepal Airlines |
| Tokyo, Japan | Japan | Nepal Airlines |
| Bangkok (BKK) | Thai Land | Nepal Airlines, Thai Airways, Thai Lion Air |
Travel Insurance
Travel insurance is a must when you travel to Nepal and the insurance policy should cover the following:
In the event of an emergency, transport to safety will be provided. If guests are interested in adventure tourism activities such as trekking/hiking/paragliding/bungee jumping/rafting, they may be airlifted to safety.
Insurance coverage for activities at altitudes corresponding to the tour itinerary (Up to 5000m for Annapurna Base Camp Trek, up to 6000m for Everest Base Camp Trek)
The coverage is sufficient to cover at least $5,000 in damages (one helicopter fare for relief service)
Insurance should cover the situation where the plane is delayed or canceled
Recommended travel insurance for traveling to Nepal is World Nomads.
Getting Around
There are a number of options for getting around Nepal, including local buses, tourist buses, flights, and hiring a car or motorbike.
Local buses: are the cheapest mode of transportation, but can be quite crowded and uncomfortable.
Tourist buses: provide a more comfortable experience with air-conditioning and stops at tourist spots. However, these buses are also more expensive than local buses.
Flight: is the quickest way to get around, but can also be the most expensive.
Hiring a car: This is an excellent choice for individuals who want to go at their own speed, but there will always be a driver when renting a car in Nepal.
Where to stay
In tourist areas of Nepal such as Kathmandu, Pokhara, Chitwan National Park, and Lumbini, you can find a lot of hotels and resorts. But if you are traveling to the mountain, then there are options of staying in basic guesthouses which cost a few dollars a night, or camping in tents on remote treks.
The price of boutique accommodation ranges from $45 to $100 in tourist cities like Kathmandu valley and Pokhara. And the budget option costs around $10 to $35 per day.
Teahouses are the popular choice for mountain trekkers, especially if you take a guided trip through tour agencies. The price of staying in a teahouse ranges between US$5-15 per person/per night.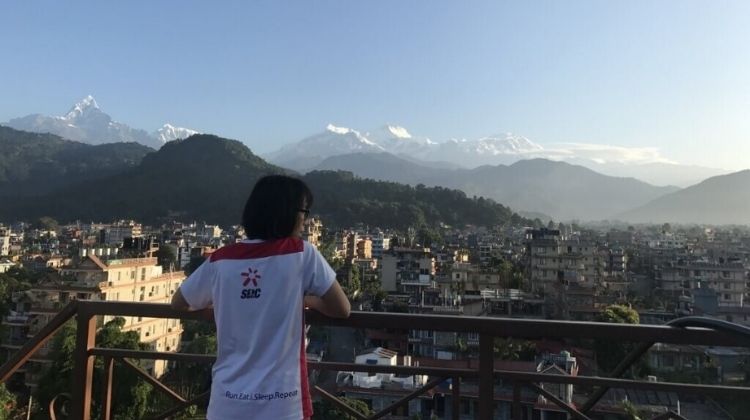 What to eat
There are plenty of familiar meals catering to western taste buds that you're likely to find in Thamel restaurants, however, if you want to taste Nepalese cuisine, there are a few alternatives.
Nepal is a crossroads of India and Tibet, with cuisine that is comparable to both India and Tibet. It won't come as a surprise to you that Momo's sauce has a masala taste!
Dha Bhat/Thakali
DHA BHAT – Energy 24 hours is a common phrase printed on T-Shirts sold in the Thamel district.
Why 24 hours? – Dal Bhat (typical Nepali food) includes rice, lentils soup, vegetables, and chicken/goat curry. Rice, lentils soup, and vegetables are all unlimited, so you consume them all and they'll be added up till your stomach is full.
The Thakali people in the Mustang region's Dha Bhat area created a more attractive version of DHA BHAT, which is called THAKALI. The bean soup and vegetables they prepare are of better quality.
Newari Khaja Set
Newars are a native of Kathmandu, so enjoy the delicate flavor of Newari cuisine in the city.
Where do young people from Nepal go when they want to eat Nepalese cuisine? They went to Kritipur, an ancient city where King Gorkha had fought three times to take it. If you don't like being in the thick of things, Kiripur is a good place to visit and sample Newar culture and cuisine.
Momo
Momo is Nepal's version of a dumpling. When you visit Nepal, one of the most recommended Nepalese foods is momo. It is possible to have a delectable steaming hot dinner for a few dollars, especially during the winter months. Buffalo meat (Buff momo) or chicken (Chicken momo) are common fillings, and many people enjoy vegetarian alternatives.
Fried Momo is another type of momo that's popular in Nepal. It goes really well with Tongba (a hot beverage made by the Limbu Tibetans). Jhol Momo is a spicy momo soup.
Thukpa
On a chilly night, a bowl of Thukpa noodles warms you up.
Dhido
Corn, buckwheat, barley, and millet are all cultivated in the high Himalayas since rice is more difficult to produce. They prepared Dhido by grinding the flour and cooking it into a dough that was served with curry and vegetables.
Read more: Best restaurants in Kathmandu
Top attractions!
Kathmandu valley – Medieval cities
If you enjoy seeing cultural and traditional things, the Kathmandu Valley is a fantastic location to consider during your Nepal travels. You may spend a few days in this area viewing amazing UNESCO World Heritage Sites such as Buddhist Stupa Swayambhunath, Patan Durbar Square (formerly royal kingdoms), Boudhanath Buddhist stupas, Pashupatinath Hindu Temple, and many more.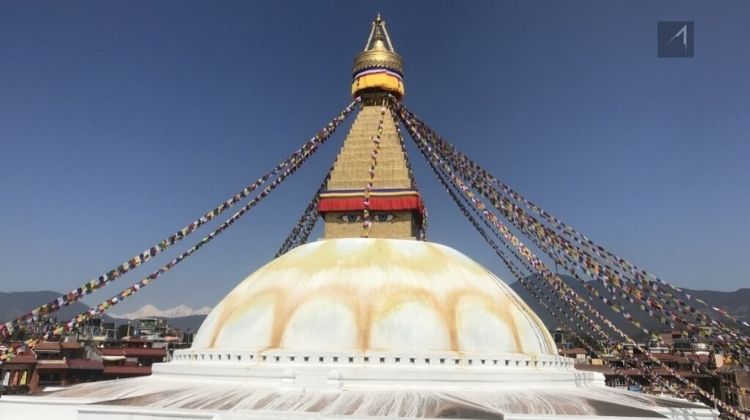 The capital, Kathmandu, is the country's cultural and historical heart, where Hinduism and Buddhism mix in ancient architecture. You'll be surprised to discover that as many Hindu symbols, as well as sculptures and devotions to the Buddha, are found in the same building.
Did you know more than 80% of Nepal's residents are Hindu and Pashupatinath is the holiest temple?. Many people from all around the world desire to be cremated at Pashupatinath Temple. You will witness Hindus burning their loved ones on the banks of the holy Bagmati.
Read more: Best Things to do in Kathmandu
Lumbini – Sacred sites
The birthplace of Lord Buddha, Lumbini is an extremely spiritual site that is a UNESCO World Heritage Site that you should not miss if you are a Buddhist.
Join the monks for the prayer at the Bodhi Tree and see the prayer flags fly in peace. Visit Maya Devi Temple, the Lumbini Monastic Site, the World Peace Pagoda, or just stroll around the tranquil gardens.
Pokhara – Mountains and Lakes
Pokhara is Nepal's premier tourist destination and a great place to visit for both leisure and adventure such as mountain biking, trekking, and even paragliding.
It is a popular starting point for treks in the Annapurna Region, making it an ideal base for trekkers and explorers. This city is also the final stop for many hikers who complete their Annapurna circuit trek.
If you don't want to walk but still want to see the dramatic peaks up close, take the Annapurna Helicopter flight that lands at the base of the gorgeous tall mountains.
You can take a motorbike or taxi to the World Peace Pagoda for a panoramic view of the city. Or simply stroll along the shores of Phewa Lake to see the sunset.
Chitwan National Park – Jungle Adventures
Chitwan might not be the image that comes to your mind when it comes to exploring Nepal, especially due to the blistering heat. However, If you want a true wildlife experience then Chitwan National Park (a UNESCO World Heritage Site) is one of the best places to visit in Nepal. Here, you can see many endangered animals like one-horned rhinos, tigers, wild elephants, and over 500 species of birds in their natural habitat.
Due to the Safari Lodge being in the midst of a national park, you may see elephants strolling down the street with a cup of cappuccino at a cafe on occasion!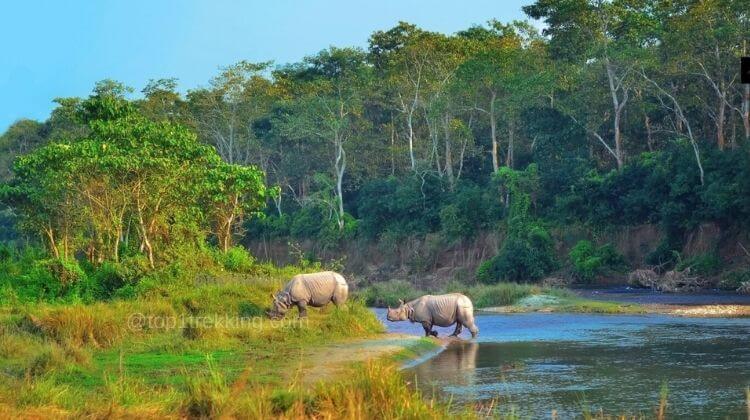 Ilam
If you are a tea lover, you have to visit Nepal's tea district, Ilam. There are some beautiful tea gardens overlooking this scenic and quaint town that is still relatively untouched by travelers and quite off-the-beaten-track. 
Read more: Best places to visit in Nepal
Trekking Nepal Himalaya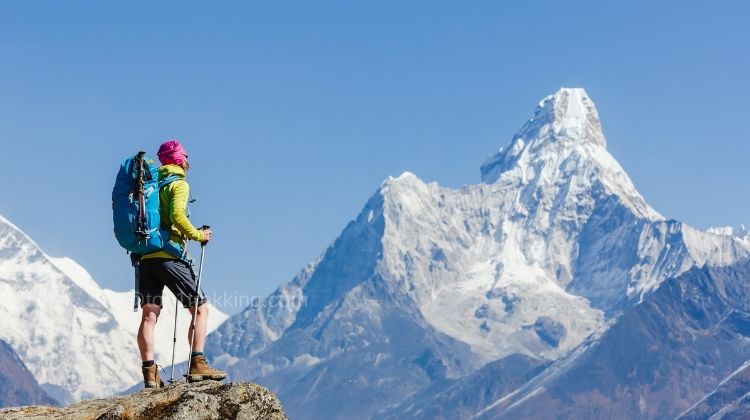 Nepal is a dream destination for mountain lovers, with numerous trekking routes to explore. The Everest Base Camp is popular among tourists because of the lure of Mount Everest, although Nepal has much more beautiful hiking trails such as the Annapurna Circuit, Manaslu Circuit, and more remote treks in western Nepal.
Nepal offers many exciting hiking trips that come with a great variety of levels. It's nearly impossible to put together a Nepal trip itinerary in one sitting, the most important thing is to pick destinations that match your interests and fitness level. Nepal will bring you back again the following time…
Read more: Nepal's best treks
Trekking Permits
Depending on how you want to travel, you will need trekking permits for your trek. If you book the tour through an agency, in most cases they will arrange these permits for you. If you are planning to go on a solo trek, then make sure that you have all the necessary permits before starting.
Do not trek alone
Trekking alone can be an option for saving money however there are serious effects to trekking alone. So be sure to share the paths with someone you know and let others know where you're going and when you'll return.
If you decide to go on a solo journey, it's vital to plan a trekkers information management system (TIMS), obtain a national parks trekking permit, and get information about the paths you want to take beforehand.
However, in restricted trekking locations, you'll need the assistance of a tour operator to arrange the group trek and obtain a trekking permit for you.
Buy Hiking Outfit in Kathmandu
When it comes to trekking gear, most people are taken aback to discover that there are so many options in Kathmandu. However, because they're also available at low costs in Nepal, you don't have to break the bank to get your hands on fantastic hiking apparel.
Pack Smart for the Trip
You should pack everything that has multiple uses because space is limited during your trekking trip. Bring clothing made of material that dries quickly and keeps you warm.
Be aware of altitude sickness
The best way to prevent altitude sickness is by taking it slow, allowing your body to adjust graThe best way to prevent altitude sickness (AMS) is by taking it slow, allowing your body to adjust gradually with each passing day. Carry medicines that can help you deal with symptoms such as headaches, fatigue, nausea, and vomiting. We strongly recommend travel insurance that covers evacuation by helicopter.
Money and Credit Card
Nepalese Rupee
Nepalese Ruppe (NPR) is the official currency of Nepal. It has denominations from 5, 10, 20, 50, 100, 500 up to a maximum of 1000NPR. The Nepalese coin shows the top of Mount Everest and the back is the animals: Elephant, Tiger, Rhino, Snow Leopard, Mountain Goat, Yak, Deer.
The face value of 100NPR is roughly 1$ USD, which can be spent on a cup of coffee.
You can exchange your money for the Nepalese Rupee at the airports and some bank branches in Thamel. Make sure that you only accept brand new notes since torn or damaged currency is not accepted anywhere.
You can use major currencies such as American Dollar (USD), British Pound (GBP), Euro (EUR), Australian Dollar (AUD), Canadian Dollar (CAD), Jaap (JAP), Indian Rupee (INR), Swiss Francs (CHF) and many more.
Credit Cards and ATMs
Credit cards are not widely accepted in Nepal. You can use them only at the airport, hotel chains, some restaurants, and for online transactions. It's best to carry sufficient cash with you during your trip.
ATM malfunction is quite common, so it's important to have cash reserves with you.
Affordable country to travel
Nepal is a relatively affordable country to travel and the cost of living is quite low. It's one of those places where you can eat out, go on treks, visit museums and buy souvenirs at a very reasonable price.
Tips are welcome
Tips are not mandatory, but they are appreciated. You can tip your trekking guides or porters at the end of the trip. If you have done something extraordinary during your journey then it's good to share extra cash with them as a token of appreciation for their hard work and dedication towards making sure that you enjoy yourself throughout your stay in Nepal.
Electricity, Internet, Mobile
Power outage
Power outage is quite common in Nepal, even during the peak of summer. Power cuts can last for hours so it's important to take precautions before you head out on your trekking trip.
Buy a Local SIM
There are only two mobile companies operating in the country: NTC and Ncell. SIM may be purchased at counters in the airport or in Thamel. You'll need a photo (4×4) and your passport to register for a SIM; this is also true of phone shops in the airport and Thamel.
Weak internet signal
The internet signal in Nepal is not very strong even when you're staying at a luxury hotel. Make sure that you don't rely on the internet too much when in Nepal.
Personal Safety Tips
Don't drink water tap
It's best to avoid drinking tap water in Nepal. The bacteria and harmful parasites found in the water can lead to stomach infections if you drink them on a regular basis.
Air quality
The pollution in Nepal's capital city is among the worst in the world. It's better to stock up on anti-pollution masks at a medical store in Thamel or at the airport arrivals hall since the air quality improves as you get farther from town.
Be prepared for the weather
The temperature can vary from freezing cold in winter and high humidity during summer so carry appropriate clothing with you depending on the time of year when you're visiting Nepal. You should also bring a poncho, a hat and wear sunscreen.
Toilets!
There are western toilets in most places, but there is also the squat type. If you're not used to using a squat toilet then it might take some time to get used to it. Make sure that you carry your own toilet paper with you as it's not always provided in public restrooms.
Avoid fake tourist guides
There are many people who will try to take advantage of tourists by offering services that you don't actually need and demand money. It's important to be aware of these people and avoid engaging with them, as they might end up scamming you.
What souvenir to buy
A Pashmina/Cashmere Scarf is not only warm and lightweight but also a popular choice for presents in Nepal. A scarf may be used while traveling or brought to the air-conditioned workplace.
Tea: Try milk tea while visiting Nepal, and if you enjoy it, purchase beautifully packaged tea packages as presents; cinnamon, masala are just a few.
Thangka paintings: Thangka paintings are intricately hand-painted religious paintings meant for wall hanging that is popular among tourists visiting Nepal.
Singing Bowl: This is the ideal present for yoga and meditation practitioners.
Khukuri Knife: A knife known for its elegance and elegant design, which is used by Gorkha soldiers and is a sign of Nepal's land that has never been invaded by foreign invaders.
Prayer Flags: You can find prayer flags selling at many souvenir shops and craft boutiques throughout Nepal, and they're meant to be given as gifts – so bring a few backs for your family!
Conclusion
If you have a burning desire to go to Nepal but are hesitant to make a move, book a flight right now and go!
Let Top1Trekking take care of the rest for you 😉