Nepal has long been a refuge for Hindus from the south and Tibetans from the north. Their ancient customs and traditions are still observed today. Owing to this fact, the Nepalese people use two primary calendars: Bikram Sambat (Nepali calendar) and the Tibetan calendar (lunar calendar).
The Nepalese, to my surprise, have more than four New Year's Eve events. However, the country's new year isn't even the most important festival. Some of the popular festivals of Nepal are Dashain, Tihar, Holi… Throughout the year, there are so many festivals held in a variety of ways owing to their place of origin.
Let's have a look at some of the major festivals of Nepal so you may plan your holiday around them.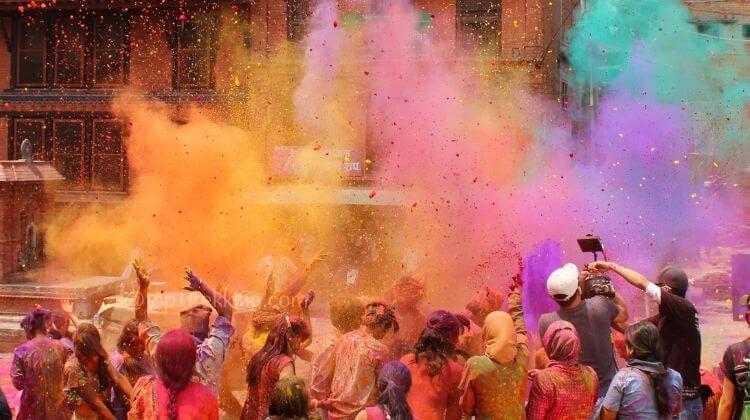 Calendar of Nepal Festivals
| Nepal Festivals | When | Calendar | Where |
| --- | --- | --- | --- |
| Losar (Tibetan New Year) | January – February | Tibetan | Boudhanath, Nationwide |
| Maha Shivaratri | February – March | Nepal (Falgun) | Pashupatinath Temple |
| Holi (Festival of Colors) | February – March | Nepal (Falgun) | Nationwide |
| Bisket Jatra (Nepali New Year) | April – May | Nepal (Baisakh) | Bhaktapur |
| Buddha Jayanti | May – June | Nepal (Jeth) | Lumbini, Boudhanath, Swayambhunath |
| Janai Purnima | August – September | Nepal (Shrawan) | Gosaikunda, Nationwide |
| Gai Jatra | August – September | Nepal (Bhadra) | Kathmandu |
| Teej | August – September | Nepal (Bhadra) | Nationwide |
| Indra Jatra | August – September | Nepal (Bhadra) | Kathmandu |
| Krishna Janmashtami | August – September | Nepal (Bhadra) | Nationwide |
| Dashain (Nepal's biggest festival) | September – October | Nepal (Ashoj ) | Nationwide |
| Tihar (Festival of Lights) | October – November | Nepal (Kartik) | Nationwide |
| Chhat | October – November | Nepal (Kartik) | Nationwide |
13 Major Festivals in Nepal
Lhosa (Tibetan New Year)
When: January – February
Where: Tibetan monastery in Nepal
Lhosar is a Tibetan festival observed by Nepalese ethnic groups who trace their history to Tibet. Such as Sherpa, Tamang, Gurung, and other Himalayan communities.
Tibetans drink Chhaang, a Tibetan hot beer, on the first days of the year. The next day, people wear traditional clothing to visit a temple where monks perform traditional rituals and offer blessings. On the third day, family members gather to celebrate the holiday meal.
If you're in Kathmandu on this day, you can witness this festival by visiting the Boudha stupa and monasteries nearby.
Maha Shivaratri
When: February – March
Where: Pashupatinath Temple
Maha Shivaratri is a significant Hindu festival dedicated to Lord Shiva. It occurs when the earth begins to warm up during the early spring season. To honor Lord Shiva's birthday, The Nepalese observe Shivaratri by fasting and visiting Shiva temples to pray.
On this day hundreds of Hindu devotees visit the Pashupatinath Temple, one of Nepal's holiest Hindu temples. The temple entrance gate is filled with a queue of devout pilgrims waiting to enter it at this time. Besides, people have been camping within the temple for several days in advance of the holidays.
Holi
When: February – March. full-moon day at Falgun (Hindu calendar)
Where: Public square
The Holi Festival, also known as Fagu Purnima, is a popular festival that takes place throughout Nepal. Many people gather at Basantapur Durbar Square in Kathmandu Valley during this festival time.
Holi festival welcomes the arrival of spring and wishes for the gods' blessings to have a successful harvest. People sing traditional songs while throwing colored powders at each other to celebrate this Nepalese holiday.
In the past people used to use Pichkari (water guns) made of bamboo and throw colored water at each other, nowadays plastic water guns are used. Also, the water ball is called Lola in Nepali, children start throwing Lola at each other from the week before the official day of Holi.
Bisket Jatra (Nepalese New Year)
When: April
Where: Bhaktapur Durbar Square
Bisket Jatra is one of Nepal's most fascinating holidays. It marks the opening day of New Year according to the Nepali calendar (Nepali Sambat). You can witness this festival at various places around Kathmandu, but you'll find it more interesting if you visit Bhaktapur Durbar Square.
A large crowd gathers at Bhaktapur Durbar Square where festivities are held with music and dancing throughout the day. Many people grab the rope to pull the chariot through the main streets of Bhaktapur. And then a crowd of young people gathers together to pull the large pillar that was erected the day before. When the pillar falls, that means Nepali New Year has arrived.
You can watch this fantastic event from a rooftop, hotel or just take pictures and videos with your cell phone!
See more: Best places to visit in Nepal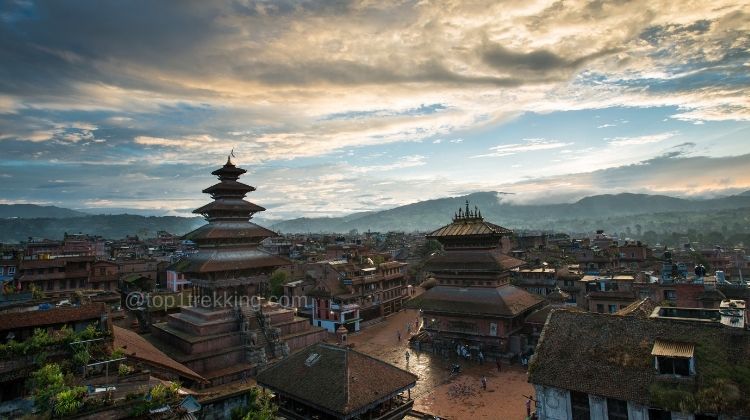 Buddha Jayanti
When: May
Where: Lumbini, Buddhist stupa
Nepal celebrates Buddha Jayanti as one of its grand festivals. This birthday of Lord Buddha is considered to be one of the most important events on the Buddhist calendar.
This holiday is widely observed in Lumbini where Buddha was born. In the Kathmandu valley, Buddhist pilgrims gather at the two great stupas Swayambhunath and Boudhanath. Activities at the main Buddhist stupas and temples begin at dawn and continue until evening.
You might be interested in Nepal Himalaya Tour (From Bouddha birthplace to the High Himalaya)
Janai Purnima
When: August
Where: Throughout Nepal
Janai Purnima is a Hindu festival that falls on August full moon day. On this occasion, Hindu men change their sacred threads called Janai which are normally worn by men across their chests.
Gosaikunda Lake in the Langtang Region is one of the most important sites for this Nepalese holiday. According to the Hindu religion, the lake was created by Lord Shiva and is one of the sacred places for Hindu religious ceremonies.
Gai Jatra (Cow Festival)
When: August or September (in Hindu calendar)
Where: Throughout Nepal
The Gai Jatra is a festival that takes place in August. The name of the event translates to "Cow Festival." It is thought that Gai Jatra was originally a festival to celebrate the lives of those who had died in the previous year. Besides, it is also believed that Gai Jatra is a way for Nepalese people to pay tribute to Yama, the god of death.
Indra Jatra
When: September
Where: Kathmandu Durbar Square
Indra Jatra is a festival celebrated by both Hindus and Buddhists devotees. The festival marks the end of the monsoon season and a time for Nepalese people to give thanks to Indra, who brought them rain during this harsh period.
At the Indra Jatra festival, you have the chance to see the living goddess Kumari in Kathmandu Durbar Square, an ancient city of Kathmandu Valley. She is carried through the street on a chariot by worshipers, accompanied by music and dancing. The chariot is then placed in front of the temple of Kumari, where she will stay for a few days.
Teej
When: September
Where: Throughout Nepal
Teej is one of the most important festivals for Nepalese women. A group of women gather together to feast and wish for a long life of her husband and a long and firm relationship with their spouses and all the lives to come. Women dress in red saree, red tika, and red bracelets then sing and dance with friends and family members.
Married women will be given an extra invitation to visit their mother's home to celebrate. While unmarried ladies wish for a suitable spouse and wish for long, healthy life.
Krishna Janmashtami
When: August-September
Where: Krisha Temple, Throughout Nepal
Krishna Janmashtami is an important Hindu festival that celebrates the birth of Lord Krishna (the eighth incarnation of Lord Vishnu). This holiday is celebrated throughout Nepal. But many people gather at Patan Durbar Square (home to the ancient Krishna Temple)
On this auspicious day, you can see young boys dress up as Lord Krishna and parade through the streets. There are also musical and dance performances, as well as traditional food stalls.
Dashain
When: October
Where: Throughout Nepal
Dashain festival is the most important and the longest festival of Nepal. It lasts for 15 days and ends on the day of the full moon. This festival commemorates the victory of good over evil and the nine forms of Goddess Durga. Nepalese people celebrate this Nepali holiday by family gatherings, wearing new clothes, renewal of community ties, and enjoying delicious food.
This auspicious festival includes many activities. Such as creating huge swings for the kids to play on and giving a goat or buffalo as a tribute to Goddess Durga. On the tenth day of the festival, family members receive Tika (rice with red vermillion and yogurt) on their foreheads from their elders.
This is the most major festival in Nepal so many businesses will be closed for more than 10 days.
Tihar
When: October or early November
Where: Throughout Nepal
Tihar is the second main festival after Dashain. This five-day festival includes several different events.
The Tihar ceremony is a tradition that dates back to ancient India. Yama has a younger sister named Yamada who has been separated from him for a long time. Therefore his older sister sent crows (messenger of death), dogs, cows, and then visited her brother.
The second day of Tihar is quite popular with the celebration of Kukur Puja which honors dogs and their loyalty to humans. Nepalese believe that dogs help lost souls find their way home during this time of year. In the countryside, cows are given similar treatment on the third day.
The fifth day is the last event in the Tihar festival called Bhai Tika. Sisters put tika on their brother's forehead and pray for their long and prosperous life, while brothers give gifts to their sisters.
During the third and fourth day of the Tihar festival, Nepalese Hindus decorate their house with colorful lights and candles to welcome the goddess of light – Goddess Laxmi.
Many other activities take place during Tihar. But these are some interesting ones like the children performing dancing and singing. Be sure to experience at least one of them if you're in Nepal during this time.
Chhath
When: November
Where: Throughout Nepal
The Chhath festival honored the Sun God (Surya). Because the sun is the source of nature's power, is regarded as the god of energy and life, and is worshiped as such.
This Nepalese Hindu festival is a four-day event that takes place during November. This religious holiday is observed by Hindus who pray for good health and long life for their families. The main ritual of this festival is to take a dip in the holy river.
This Nepalese holiday includes many activities like fasting, meditation, and bathing at sunrise followed by chanting hymns to praise the rising sun. Nepalese people offer thanks for a good harvest during this time of year.
CONCLUSION
With so many Nepalese festivals to choose from, it's hard to know where the best place and the right time for your Nepal trip is. We hope this list has given you some ideas on where and when to plan your travel!
And if you want even more information before planning your next vacation, be sure to read our article about things you should know before visiting Nepal.
Did we miss one of your favorite celebrations? Let us know in the comments below! Happy travels!