Nepal is known for its rich culture, stunning landscapes, and adventure activities. One of the most popular trekking routes in Nepal is The Rhododendron Trails. It's filled with beautiful rhododendrons, which are in bloom between late April to May. You will pass by villages, forests, and mountain ranges on these routes – making it one of the best treks for nature lovers!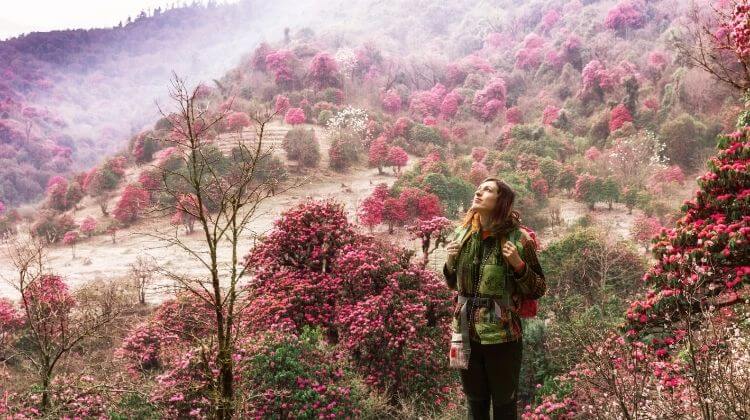 Red Rhododendron is Nepal national Flowers
Nepal is home to more than thirty species of rhododendron, including the popular Lali Gurans (the national flower of Nepal), which grows to be 20 meters tall and has beautiful red, pink, and white blooms.
In the Himalayas, rhododendron blooms in the upper elevations from 2,400 meters to 2,800 meters in Spring. Hills are a red sea of flowers against a backdrop of snow-covered mountains that takes you to paradise.
The eastern and central regions of the country are covered by extensive rhododendron forests, which may either be a major tree or interspersed among other forest types.
Trekking is the greatest approach to see the beautiful forest during its flowering time, so here's our advice for you to consider as you plan your trek to admire rhododendron blooms:
Nepal's Treks to see Rhododendron Forest
Ghorepani Poon Hill Trek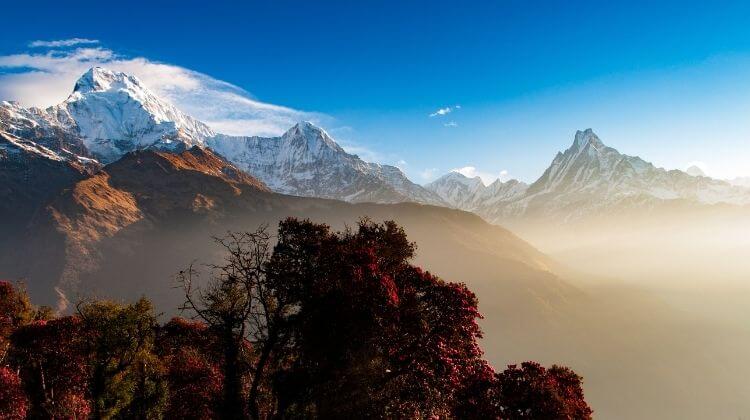 This trek takes you to the highest altitude on Poon Hill (3200m), which is located on the ridge to the west of Annapurna, with a view of both Annapurna and Dhaulagiri ranges set apart by the Kali Gandaki gorge.
From this bird's eye perspective, the breaking dawn is without a doubt one of the most spectacular sights you'll ever encounter in Nepal. Rhododendron forest is higher up on the trail to Poon Hill, and the trek from Ghorepani to Tadapani is another fantastic jungle trek.
Langtang Gosainkunda Traverse via Lauberina La Trek
Gosaikunda Lakes is a popular trekking destination for both pilgrims and tourists. Every year, the Gosaikunda lakes trek draws pilgrims and hikers to visit. It's an excellent time to go in the spring to see the rhododendron bloom.
The path near the Lama Hotel is becoming more wooded with rhododendrons and animal fantasies, from Tatopani to Phedi, where an Australian named Jame got lost in the winter and struggled for survival for forty-three days before being rescued.
Kangchenjunga Base Camp Trek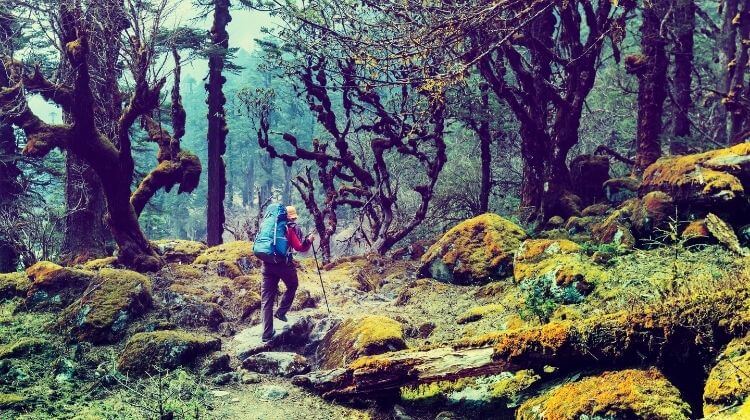 The third-highest peak in the world, Kanchenjunga (8,586m/28,169ft) straddles the border between India and Nepal's remote northeastern corner where people speak Tibetan.
The first of ten stages on the Great 1,700 kilometers Across Himalaya Trail is unquestionably one of the most gratifying hikes in the entire Himalayas.
In the Kangchenjunga region of far eastern Nepal, there are extensive rhododendron forests and nevertheless, not many tourists come here to see these lovely blooming trees against a backdrop of snow-covered peaks.
Manaslu Circuit Trek
Manaslu Circuit Trek is the true hidden gem is comparable in terms of scenery and less-crowded routes with the Annapurna Circuit Trail.
The circuit trek leads you to the top of Larkya La, where you may see 8,000m peaks including Manaslu's "spirit" mountain and Ganesh's "elephant" mountain.
For spiritual individuals, the magnificent Rimdu monastery in the backdrop of snow-capped mountain peaks behind is an ideal option to gain calm and serenity.
Conclusion
Nepal is one of the most beautiful places to visit in the world and if you want to see rhododendron flowers, there are many different routes that can take you through these stunning blooms.
We hope our guide has helped provide some important information about Nepal's treks for nature lovers and where to find them! If this article piques your interest, we encourage you to plan a trip with us or let us know how we can help make it happen. Our team would be happy to assist by providing personalized travel advice just for you!