When it comes to planning your hiking trip such as the Everest Base Camp trek, a proper hiking boot is the most critical outdoor gear you will need on your dream walk.
Depending on where, when, and the duration of the hike, choosing the right trekking boot will save your feet from blistering and leave a smile on your face.
You might confuse about what styles and which sizes to choose. Here are 5 tips to help you find the right gear for your next adventure.
#1. PICK A STYLE
If you want to choose hiking boots that you can use in the majority of your hiking trips then you should know the difficulty level of terrain, duration of the hike, and the load you will be carrying most of the hikes. 
Here are some suggestions on selecting styles to help you identify the model that fits your need.
Let's dive in.
Trail running shoes
Design for running on sandy and dirt trails, but many hikers prefer to choose trail running shoes with lightweight, flexible soles model to provide minimal support and stability for a short hike.
Best Uses:
Hiking for a short duration: one-day or weekend hiking such as Australian Camp Hiking
Carrying a day hiking pack (20L)
Walking on mellow terrain
Hiking Shoes
With thicker soles, lightweight designs, hiking shoes are more durable and provide better protection for your feet and ankle than trail running shoes.  If there is no snow on the track and your pack is light these low-cut shoes are still fine even for long treks.
Best Uses:
Short hikes or long-distance hiking without snow or river crossings, such as Poon Hill or Upper Mustang Trek
Carrying a lightweight backpack (25-35L)
Walking in warm and dry terrains or rockier trails
Hiking boots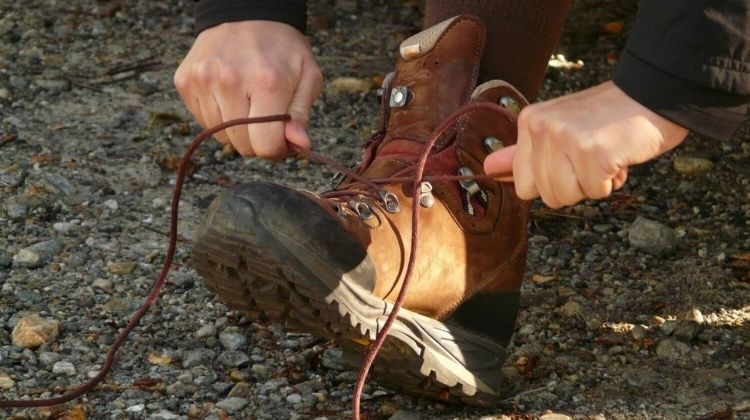 For most of the high-altitude long trek in the Himalayas, hiking boots are an excellent choice. It comes with a high-cut design that provides ankle support, extra stiffness when hiking on rough terrain, the steep trail even helps you to fight snow and rain. There is only one catch, the heavyweight.
Best uses:
Going on a week-long trek might encounter snow or high pass crossing like Manaslu circuit trek, Everest base camp trek.
Carrying a moderate to heavy pack (>40L)
Hiking in off-trail or cold conditions
Tips
Trekking with porter service: you can carry two sets of shoes, trekking sandals are useful if you cross streams or give your foot some air after a long time wearing hiking boots.
Crossing icy passes, glaciers end extensive snow, a microspikes and yaktrax can provide much support.
#2 KNOW MATERIALS
Now that you have a style in mind, it's time to take a look deeper at the boot's component.
It helps you to find out a proper boot that offers the specific support your need: Waterproof or not, does it need extra stiffness, more comfort, and light than support and protection?
Hiking boot upper
The materials used in the upper layer of the hiking shoe range from synthetics to leather and even the combinations of the two. 
It impacts the weight, durability, breathability, and the water-resistance of the hiking boot.
Synthetics: made of polyester or nylon; This material is more breathable, has less break-in time, feels lighter, and dries faster than the leather pair. On the minus side, it is less water resistance.
Leather: Leather shoes are less breathable, feel heavier than synthetics one, but it is the best option for durability, protection, and water resistance.
Half leather half Synthetics: With the combination of these two materials, this model provides both breathability and durability but less resistance to water.
Hiking boot insoles
The insole is the removable layer inside the trekking boot that has a wide range of thickness, materials, and stiffness.
You can replace factory one with better support padding insole if carrying a weighty pack on the hard surface terrain for a long period.
Hiking boot midsoles
The midsole is a buffer layer between the insole and the outsoles. It provides cushioning to your feet, stiffness to the boots which protect your feet from shock if you are doing a multi-day hiking trip on rocky terrain. 
Midsole materials are usually made of EVA (ethylene vinyl acetate) and Polyurethane
EVA: lighter and cushier and softer, less durable
Polyurethane is more durable and support
Hiking boot outsoles
The rupper part that touches the ground is the outsoles of the hiking boot. Hard, nonslip outsoles, such as Vibram provide the best grip and protection.
Lug Pattern: Give traction to your feet; it comes in very shape. The deeper and thicker lugs are used on hiking boots to make them grip better. Larger lugs are good on the muddy trail
Heal break: Offer support on steep descents; This reduces the chance of sliding.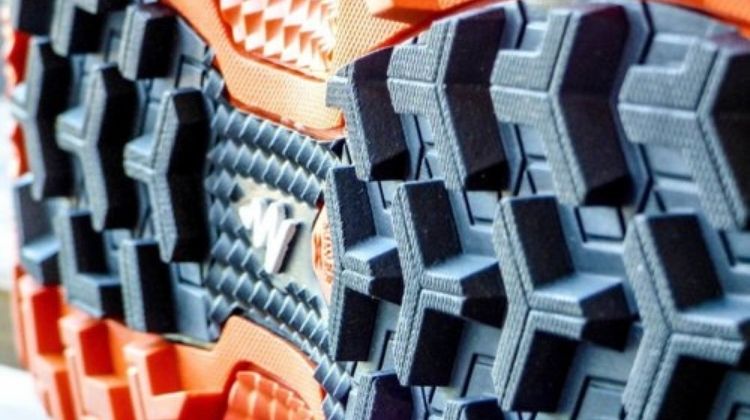 Water-Resistant
A waterproof hiking boot is good for long hiking trips when the weather is highly unpredictable, it helps to keep your feet dry from falling snow or rain.
These gore-tex models prevent water to enter the shoe while venting out the moisture inside allows your feet to breathe. 
The disadvantage of waterproof shoes is they limit breathability, which is not comfortable if you hike in dry conditions.
#3. LEVEL OF SUPPORT
Hiking boots come in three major cuts, the highest one gives the best protection from rolling ankle or rocks entering your shoe but it adds a lot of weight to your feet.
Low-cut: Enjoy the lightness, flexibility, and comfort it brings. The Low-cut boots expose the ankle so you need to pack light. Perfect choice for short hikes.
Mid-cut: Most prefer style among hikers as it offers more ankle stability on rough terrain and prevents dust and water enter to your shoe. Good for most hiking trips when you carry a moderate weighty pack.
High-cut: With the optimal balance and ankle support, this cut is best for the adventurous hiker to go off the trail and traverse potentially dangerous terrain. 
#4. CHOOSE YOUR SIZE
You get the ideas of the styles, the materials, the cut. You find good reviews shoes that you are hard-set on buying that pair.
But if it does not FIT your FOOT, it is not a proper hiking boot for you!
To ensure that the boot is a proper fit and provide maximum comfort
First, you need to know your size.  
Measure your foot length, width, and use the size charts of the shoe brand to figure out which size you need for the boot. Choose the boot that is 1/2 or full size bigger than casual shoes
Try the shoes on in person; Make sure your toes should not hit the front of your shoe; your heel should not raise up when ascent. You can pull out the insoles and check if you have a thumb's width of space behind your heel.
When shopping online, you get more selection than retail stores, make sure you use the sizing guide to find your size. Also, buy from the brand you have worn before, so you know the model of the shoes well.
It's a good idea to wear socks when you try your hiking boot. Know the weather condition of most of your hikes, thick woolen socks for a cold trek, and synthetic for warm or hot weather.  The thickness of socks can alter the boot fit. 
Try your shoe later in the day as your feet swell as you actively stand or workaround. It can be ½ or 1 size difference.
#5. BREAK-IN
New boots often cause the "top chop" during the break-in period when the leather is not getting flexible.
Prior to taking your shoes out for your first trip, wear them inside the house, around the neighborhood, or short hikes to break them in, this gives you a better idea if you find the right gear.
Conclusions
The best hiking boots need to give the support that you need, the comfort of boot material brings while you are out on the trail and how the boot fits your feet. These are the three most important things in picking the ideal boot for you.
Your hiking boot's job is to keep your feet happy from trailhead to your hike's end.
So, what other tips have you noticed? I would like to hear from you.